Joyner Lucas is in full back-pedal mode...
The rapper recently went nuclear on Twitter, calling out Lollapalooza and Machine Gun Kelly, stating that his name was too small on the flyer and that Machine Gun Kelly should not be a headliner.
A few days later, Joyner says she was hacked by Russian hackers; but that story has changed again.
Joyner is now taking responsibility for the tweets. He expained that there is no excuse for his tantrum, and offered MGK a sincere apology on Twitter.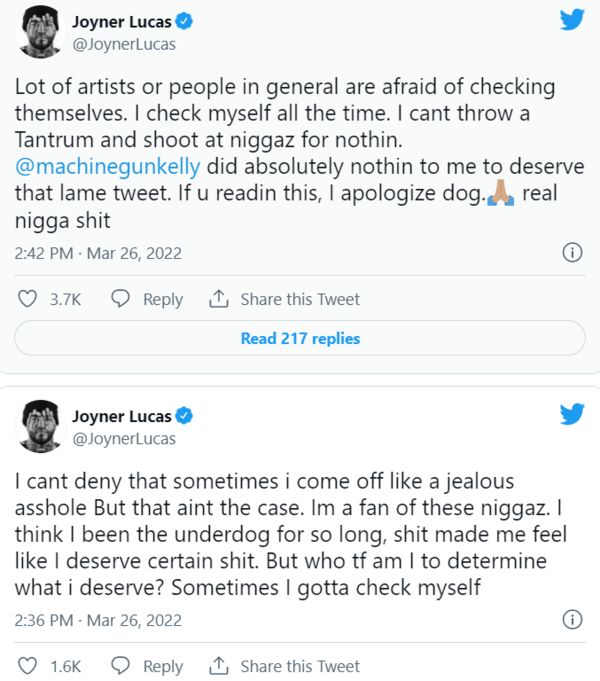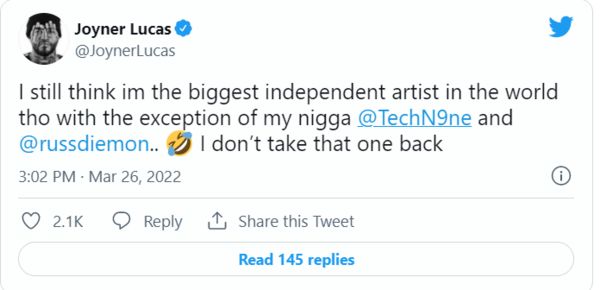 "Lot of artists or people in general are afraid of checking themselves. I check myself all the time. I cant throw a Tantrum and shoot at niggaz for nothin. @machinegunkelly did absolutely nothin to me to deserve that lame tweet. If u readin this, I apologize dog.🙏🏽 real n*gga shit," Lucas typed. "I cant deny that sometimes i come off like a jealous asshole But that aint the case. Im a fan of these n*ggaz. I think I been the underdog for so long, sh*t made me feel like I deserve certain sh*t. But who tf am I to determine what i deserve? Sometimes I gotta check myself. I still think im the biggest independent artist in the world tho with the exception of my n*gga @TechN9ne and @russdiemon.. 🤣 I don't take that one back."
Discuss