50 Cent reignited his sometimes serious, sometimes not, beef with Jim Jones with a very serious charge.
Fif used Tekashi 6ix9ine impending early release to call Jones a snitch by questioning why Capo was never charged with the other Nine Treys even though he was caught on tape suggesting 6ix9ine's violation.
Jones shot back, calling Fif a hater.
Now Maino has entered into the fray. It started when 50 noticed that Maino liked Jones anti-50 post, and then reminded everyone that he had helped the ungrateful Maino with his career.
"learn something new everyday,😏see i looked out for this guy when he needed help. I made a call to get him his deal but people forget. being a good judge of character is detrimental to success and people change so you have to watch them. if you stay on point you will peep the change," Fif typed.
Maino responded by saying 50 is overthinking things.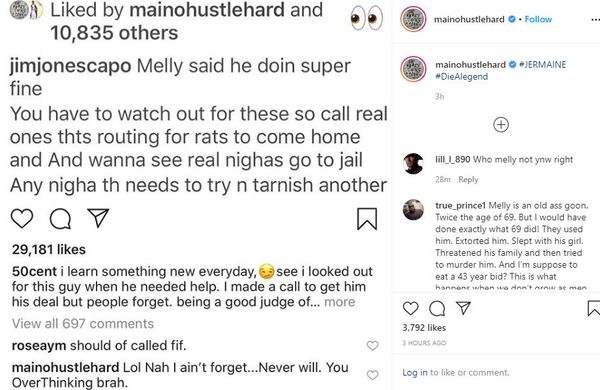 "Lol Nah I ain't forget ... Never will. You OverThinking Brah," Maino typed.
6ix9ine isn't even home yet and he has all the New York OGs at each others' throats.
Discuss