It's a decent bet that Tekashi 6ix9ine will be coming home this evening thanks to the Coronavirus concerns that are getting prisoners all over the country their early release.
50 Cent quickly commented on the news his "son" will be coming home by bringing up Jim Jones, who 50 Cent thinks snitched just as hard as Tekashi did.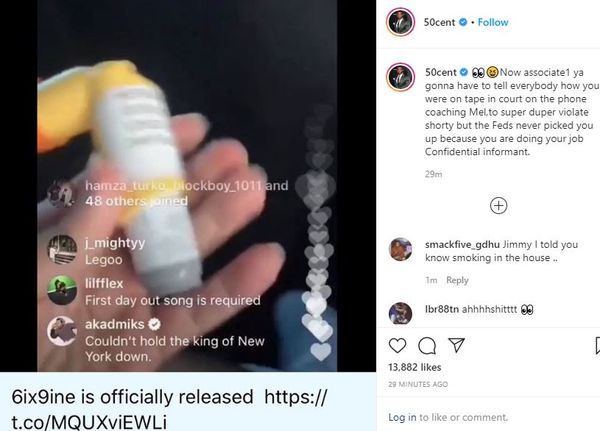 "Now associate1 ya gonna have to tell everybody how you were on tape in court on the phone coaching Mel,to super duper violate shorty but the Feds never picked you up because you are doing your job Confidential informant," 50 typed.
Jim Jones was notoriously never charged in the racketeering case 6ix9ine made famous even though he was caught on tape telling Tr3way boss (and former Byrd Gang member) Mel Murda to have Shotti violate 6ix9ine.
"He not even a gang member no more,"Jones said during a conversation the Feds recorded.. "That's what Shotti need to make sure he do. Tell that n**** he's not a gang member anymore ... He better get to violating. He better stalk shorty every move. One of them security better get hit. Something better happen. "
Fif likes to joke around with Jones. But calling Capo a snitch is no joke.
Discuss