Three 6 Mafia seems to keep a close eye on people trying to profit off their music.
Travis Scott had to settle a $20 million lawsuit with the group after using their "Tear Da Club Up" song for a hook on his cut "No Bystanders."
Three 6 also sued Suicideboys last month for allegedly stealing parts of their music.
Now the fast-food chain Arby's is facing a suit from Three 6 after supposedly using their music in a commercial without clearing it. Juicy J sent a now deleted-tweet about it and said that he wouldn't tolerate theft.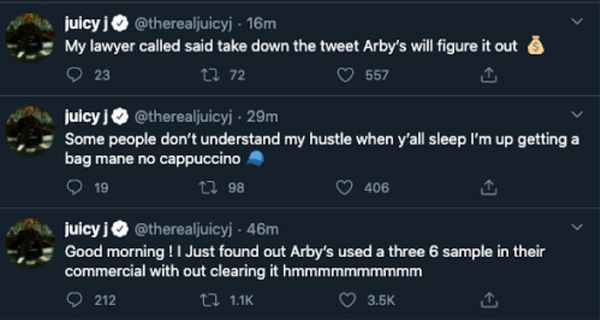 "Good Morning! Just found out Arby's used a three 6 sample in their commercial with out clearing it hmmmmmm," Juicy typed. "Some people don't understand my hustle when y'all sleep I'm up getting a bag mane no cappuccino,"
Why do you think a person or company would use a song without clearing it, seeing how easy it is to detect that kind of thing nowadays?
Discuss