Funk Flex said that Cardi B's team paid DJs to play her music at the beginning of her career.
"I think Cardi is a great entertainer and has great songs," he wrote underneath a post of Cardi raving about how much love she recieves. "I gave my opinion when she said she was 'King of NY' and when I found out she didn't write her own songs. I met Cardi and her management and I respected his and Cardi's hustle. But let's be clear, Cardi's team and many other artists (in the beginning of career) pay DJs to play records and say that they are hot. Since I never took a penny from a rapper I'm not scared to speak on it. I have emails I've gotten from labels over the years with names and figures."
The fact that Cardi recently went online to talk about how much love she gets is no surprise; it's something she does often. She is also always quick to respond when people say her name negatively, like the time people accused her of lying about buying a Lamborghini.
Do you think Cardi will respond to Flex suggesting she paid her way to the top? She has before.
Update: Here's Cardi's response.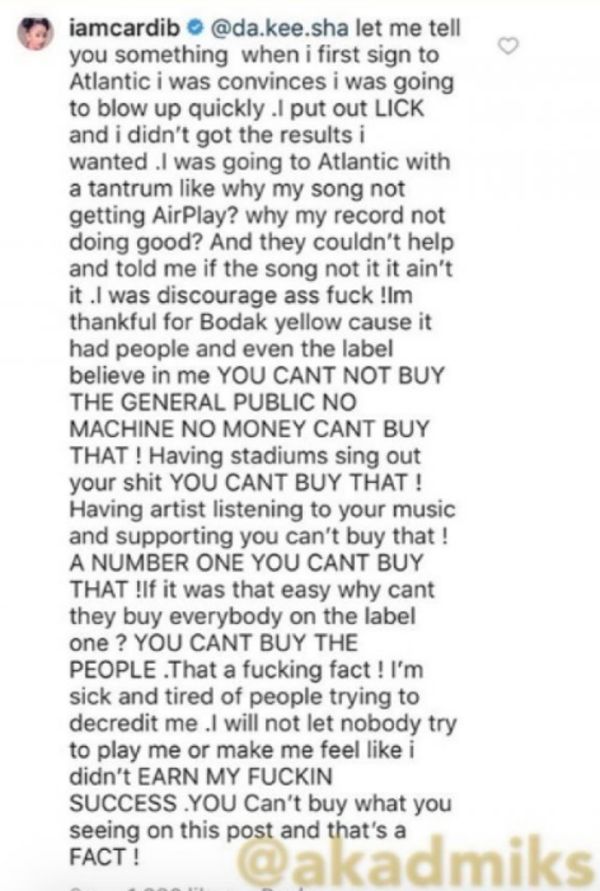 Discuss