Wack 100 can't seem to stay out of social media drama.
Two months ago, he played all of us with his fake Mike Tyson beef, and now it looks like he may be involved with another online beef, but is it real?
Wack took to Instagram on Friday night to air out all the fake gang bangers...
Wish a nigga would say a word I'll embarrassed the fuck outta nigga playing with me !!!! Enough is enough if it's on let it be on ....
KEEP PLAYING WITH IT IMA INTERVIEW A FEW OF MY PARAMOUNT PARTNERS MAYBE DAY VIEW A FEW OF THESE PHITOS & VIDEOS ... SMH LIKE I SAID YOUR A #LILNIGGA IM KNOWN FOR DESTROYING A NIGGA - #WACKGIVESNOFUCKS - #WHENUWASCRIPPENBEFOREPIRU'N #PARAMOUNT#GUNDRYBLOCKCRIP- YEAH AIGHT
As you can see, he showed love to Blueface, The Game, and Mozzy, but left a few people off the list, and one of them was YG, and he was not feeling it.
YG hit the comments multiple times, telling Wack he should have hit him directly and calling him "Instagram fingers."
Wack fired back insults, and it looks like we have a new online beef arising.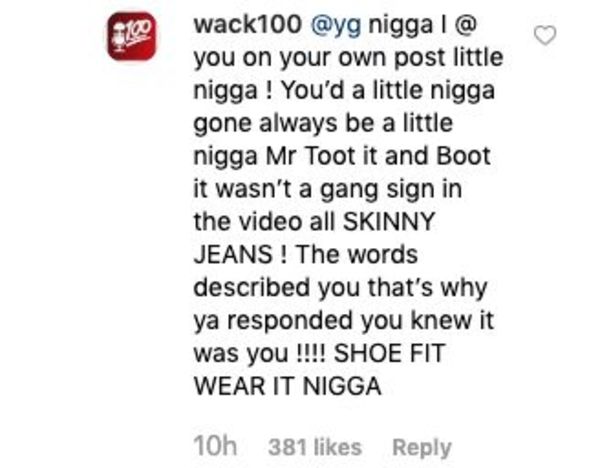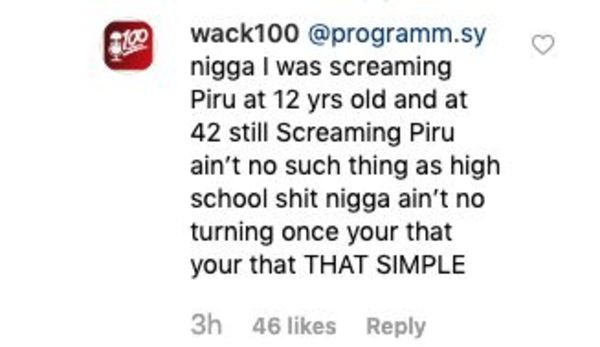 Discuss