Rita Ora and Conor McGregor are not supposed to be "dating."
The singer is supposedly involved with Tyrone Wood, son of Rolling Stones legend Ronnie Wood, and Conor is in long-term relationship with the mother of his child Dee Devlin.
Which is why this Tweet Rita put out late last night from London's Fashion Awards is rubbing so many folks the wrong way.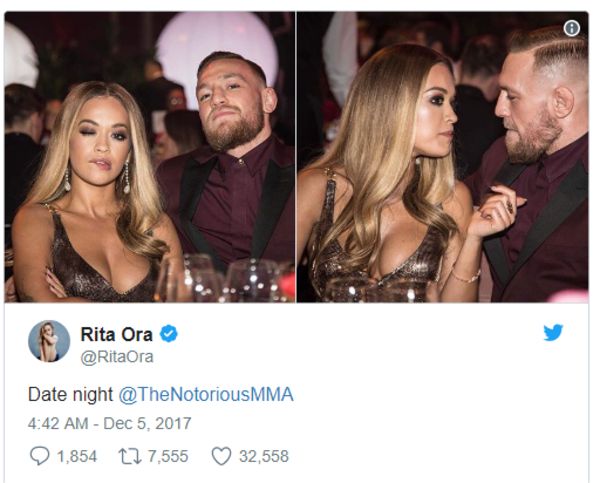 Rita has a history of joking about being the other woman. Last year, she seemingly played along with the rumors that she was the Becky With The Good Hair that JAY-Z cheated on Beyonce with before denying it was her.
Twitter is not impressed with her latest stunt:
Girl code around the world is literally screaming at Rita Ora, what a fucking tuna melt

— Charlotte Murray (@lottemurray97) December 5, 2017
Rita Ora was deffo Becky with the good hair Beyoncé was on about you know ... I can just smell it !

— fokin el (@elklien) December 5, 2017
If I saw a picture of my boyfriend looking at another girl the way Conor McGregor is looking at Rita ora in that pic I'd spin his head

— Ab 🎃 (@abbielxigh) December 5, 2017
You've got a fine Irish steak at home mate. No need to ruin it with a McDonald's.

— Stephen Patten (@StevePatten) December 5, 2017
Rita Ora's desperate attempts to stay relevant are actually quite sad 😂 imagine being that much ae a boot tho, hope Dee kicks her cunt in

— Kieran (@Youngyy_) December 5, 2017
Ad pay good money to watch Dee devlin throw a few jabs at Rita Ora the fckn SLUT

— B (@bethieboo99) December 5, 2017
Dee Devlin vs Rita Ora - UFC 219 , Tickets on sale now https://t.co/f5tezflXtv

— Kel (@Kelvin_Murph) December 5, 2017
The Rita Ora and Conor McGregor situation is prime example of how it's nearly always the girl getting the blame and hate for it.. it takes two✌🏼

— christie (@christiehelen29) December 5, 2017
Rita Ora made a joke and the masses of insecure twitter girls go mad 🤣😂 you have no context of the joke or their relationships, you don't even know these people. Sit down. pic.twitter.com/IzXagJqKfi

— Benjamin T Hubble (@Benjamin_hubble) December 5, 2017
Was Rita out of line?
Discuss