Tekashi 6ix9ine seems to be getting upset about all the chatter surrounding his sex video crime involving a 13-year old.
He's already pleaded guilty to three felony counts of Use of a Child in a Sexual Performance in the incident. Last week, the details of the case were released. They contradicted 6ix9ine's description of what happened, revealing he was a more active participant then he let on.
Tekashi lashed out at the press coverage of him in a since-deleted Instagram post.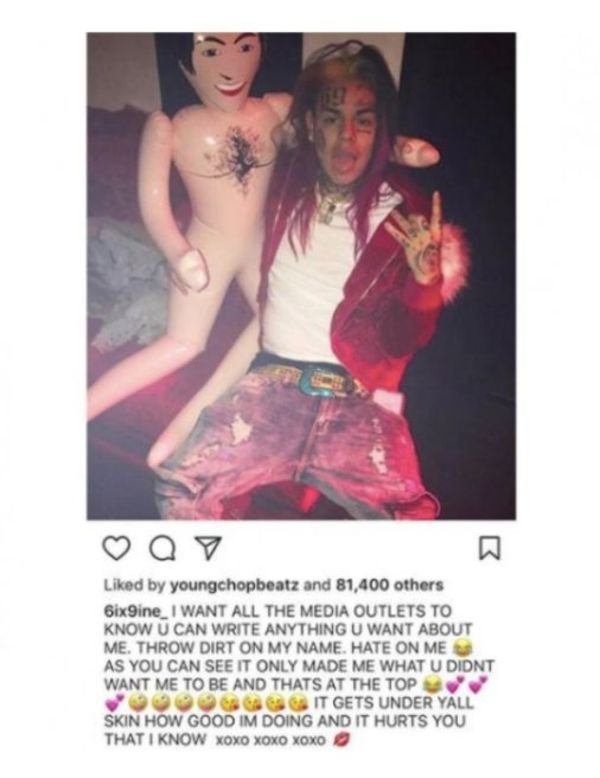 "I WANT ALL THE MEDIA OUTLETS TO KNOW U CAN WRITE ANYTHING U WANT ABOUT ME. THROW DIRT ON MY NAME," he wrote in a now-deleted Instagram post. "HATE ON ME. AS YOU CAN SEE IT ONLY MADE ME WHAT U DIDNT WANT ME TO BE AND THATS AT THE TOP. IT GETS UNDER YALL SKIN HOW GOOD IM DOING AND IT HURTS YOU THAT I KNOW xoxo xoxo xoxo."


Do you think 6ix9ine should be showing some more remorse, or is he right to defend himself?
Discuss