Last month, we learned that Brooklyn rapper Teka$Hi 6ix9ine [Daniel Hernandez] pled guilty to three felony counts of Use of a Child in a Sexual Performance.
The girl in question was 13.
Since then, 6ix9ine has denied making sexual contact with the girl and has denied knowing she was 13. He also said the event took place "3 or 4" years ago, when he was 17.
An investigation by Jezebel, which includes a copy of the criminal complaint and 6ix9ine's statement to the police, has found that none of that is really true.
For starters, the incident took place in 2015, when he was almost 19.
It happened when the underage girl came to a Harlem apartment housing 6ix9ine and some other men. She got naked and started doing sexual things. 6ix9ine upload video of some of what went down onto social media.
In one of the videos, 6ix "stands behind the child making a thrusting motion with his pelvis and smacking her on her buttocks." He does this while she's nude and performing oral sex on another man.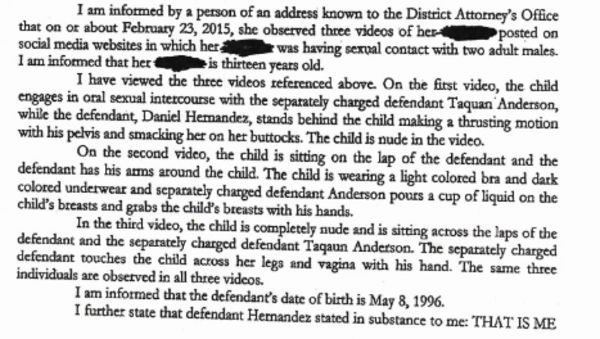 In the police report, 6ix9ine admitted that he never asked her age, he just assumed that she was older.
He also told investigators that his behavior during the incident was part of his "scumbag" persona, and he just did it for "shock value."
His plea deal, which he took in October of 2015, was a three year suspended sentence which turns to two years of probation if he meets certain requirements, including getting his GED, staying out of trouble, community service, and writing a letter to the victim.
His sentencing is scheduled for January 30, 2018, at which point he will either get the probation or up to three years in prison.
You can read the whole Jezebel report here.
Here's what 6ix9ine said went down before these reports leaked:
Discuss