Teka$hi 69 is hedging his bets when it comes to his ride.
The New York Post's Page 6 reports that the Blood-red bandana-covered Tahoe which 69 flaunts in his "Tati" video (and other places) also sports a pro-police sticker.
6ix9ine — born Daniel Hernandez — frequently proclaims his affiliation with the West Coast-based gang and describes the SUV as "that real Bloody s–t" in a video posted to YouTube.

But photos shared with The Post show 6ix9ine's custom ride also has a "thin blue line" sticker — a grayscale American flag with a blue strip on the flag's center stripe — on the passenger side of the rear window.

The pro-cop image has come to be associated with the Blue Lives Matter movement — a backlash to the Black Lives Matter social-justice movement against police brutality — and bizarrely suggests a police-friendly bent from the self-proclaimed gangster, who even boasted in his "Tati" video that he's no stool pigeon.
Here's a shot of the sticker.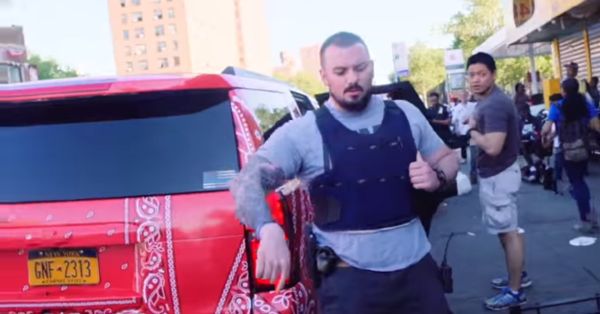 Those pro-cop sentiments didn't do 69 any good earlier this year when he was arrested in Brooklyn after a traffic incident. He was initially charged with felony assault of a cop because an officer claimed 69 squeezed his hand so hard it swelled as he tried to handcuff the troll rapper.
However, that charge was dropped to a misdemeanor when it was determined the officer's injuries weren't serious enough (meaning there were no injuries and the charge was trumped up) for a felony.
Discuss