Gucci Mane threw his hat into the "who invented trap music" ring last week.
That offended T.I., who's been claiming he's the daddy of the trap genre for years now.
In his first attempt at a clap back, T.I. pointed out in an Instagram post that his 2003 album Trap Muzik came out two years before Gucci's recognized debut album Trap House.
He also suggested Gucci or anyone else who didn't recognize this is "slow."
Gucci fired back with this: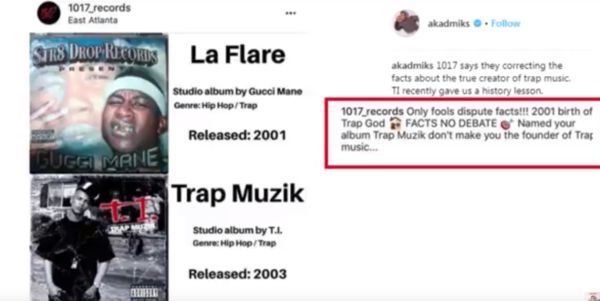 So an exasperated Tip posted a new IG message which included a video of him allegedly trap rapping back in 2001 on the track "Dope Boyz & The Trap Ni66az."
"This shits obviously goin over y'all heads...so.... i guess I'm gon take the High Road & Just let y'all carry on in the ignorance of fake news... but for those who care for statistics & Facts... this is 2001. I'm serious. "Dope Boyz & The Trap Ni66az" Y'all stay classy....," T.I. types.
Does this dead the argument or nah?
I'm the King Of Trap You Should Call Me Sire and I want stop stunting til ..

— Gucci Mane (@gucci1017) April 9, 2018
Discuss