XXXTentacion was killed by two black males, one of whom was wearing a red mask.
It didn't take long for people on the Internet to notice a South Florida rapper named Soldier Kidd was stunting a red mask with a black friend in an Instagram photo posted right before X's killing.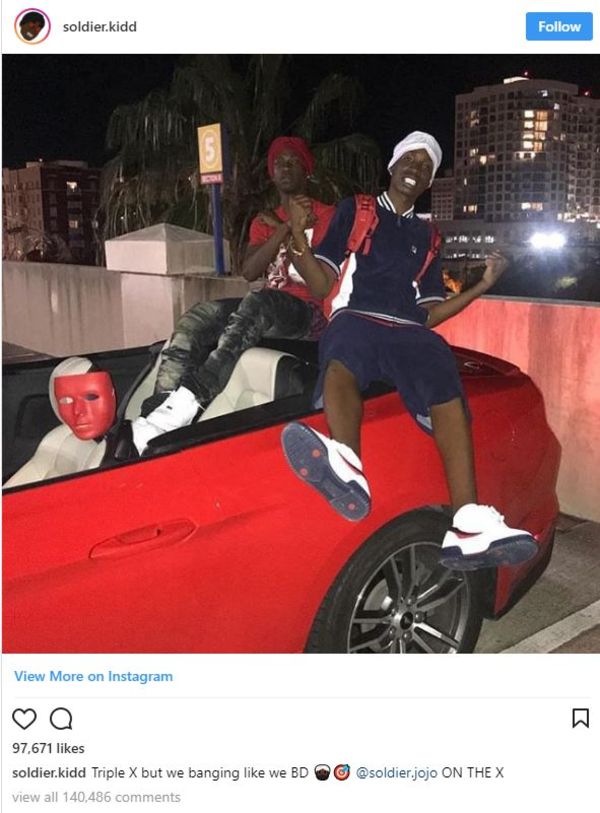 Soldier Kidd also posted an Instagram Live photo from an eatery minutes away from where XXXTentacion was killed right before his murder.
Soldier Kidd is responsible for the murder of xxxtentacion.
Here's the proof: pic.twitter.com/oF6jo3XL2M

— YoungNavy++℗ (@BeatsByNavy) June 19, 2018
On top of that, Soldier Kidd dropped a mixtape called XXX last month, suggesting he could have issues with XXXTentacion over who in South Florida owns three Xs.
In various web videos, Soldier Kidd denied having anything to do with the murder and (improbably) claimed that he didn't know who XXXTentacion was.
Despite the coincidences, we doubt Soldier Kidd had anything to do with the murder.
But if you really want to go down the crazy conspiracy theory rabbit hole, you can also add Drake to the mix.
Another theory besides the soldier.jojo and soldier.kidd pic.twitter.com/rv96a3Vjq6

— 🖤 (@NoKeR_YT) June 19, 2018
Discuss