A lot of people said they hated that Tory Lanez used Megan Thee Stallion being shot to promote his DayStar album, and Rick Ross is one of them.
Tory responded to the shooting accusation throughout the entire project and denied pulling the trigger. He also admitted to dating the Houston rapper and having a crush on Kylie Jenner.
Ross said that dropping the project is horrible timing because of Breonna Taylor.
Earlier this week, the three officers who shot and killed Taylor in March during a no-knock search warrant weren't charged for her death. Only one officer was charged and he was hit with three counts of wanton endangerment in the first degree for shooting into the apartment of Taylor's neighbors.
@RickRoss says it was a bad idea for @torylanez to drop his project out of respect for #BreonnaTaylor pic.twitter.com/C2vOLTFCM1

— The HipHop Junkie (@_quanwilliams) September 25, 2020
"Tory Lanez, poor decision brother," said Rozay on Instagram Stories. "Dropping that project... Just outta respect for Breonna Taylor, bruh, we gotta respect these sisters. That ain't how you address the accusations you facing. That was a poor choice, homie. You ain't getting no money with that sh*t."
Ross then posted another video and clowned Tory.
"I bought a car for Tory Lanez...heard ya shit just went double acrylic on Dat Piff" 🤣🤣🤣🤣 @RickRoss funny as FUCK! pic.twitter.com/U9Ol3mRc9Y

— Banye Bardashian (@TaronChandon) September 25, 2020
"I just bought a car for Tory Lanez. I got a gift for your album release, homie," he said, while showing a smart car. "Heard your sh*t just went double acrylic on Dat Piff."
What do you think about Ross' message? Here's Lanez's response: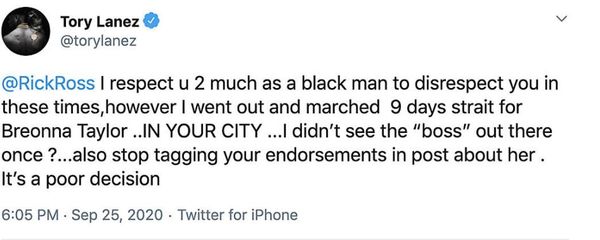 Discuss