Pusha T has injected himself in the Lil Wayne/Birdman meltdown from the beginning.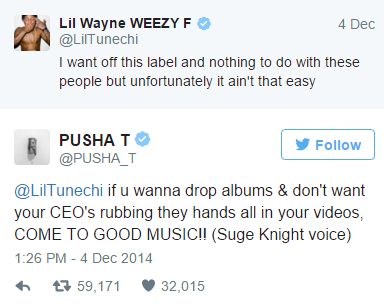 Push is a label boss himself now. But that hasn't changed the way he thinks about Birdman one bit. In an interview with Mikey T The Movie Star, The G.O.O.D Music President goes in on Baby:
"If you steal something that's just corny.  And if you're stealing it contractually that's like the lowest form of a thief. It's like a cat burglar" explained Pusha. "It's not even respectable in no way, shape, or form. You're not even thugging. You're like sneaky. I haven't respected Baby for a long time in no way, so it don't matter."
In the interview, Push also reveals his Darkest Before Dawn producers, which include Sean Combs, Timbaland, Kanye, J. Cole Hudson Mohawke. Check it out:
Discuss