During a stop on the Million Dollarz Worth Of Game podcast earlier this week, J. Prince announced that he was beefing with Offset.
Some folks, like Wack 100, believe that Prince was essentially snitching when he brought up this unknown beef.
"[Offset] ain't say nothing, right? Here he go, alarming law enforcement that Offset might have a problem with us," Wack said on Clubhouse. "Offset ain't openly say nothing. So now this n*gga came out on one of the largest podcast platforms and waking it up that Offset is making threats."
Offset seems to argue with Wack. He jumped on Twitter this evening and said he was done with J. Prince because the Mob Ties boss is the police.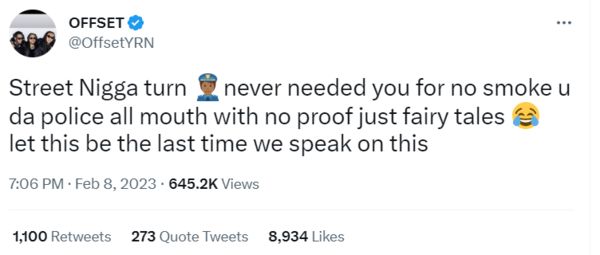 "Street N*gga turn [police] never needed you for no smoke u da police all mouth with no proof just fairy tales let this be the last time we speak on this," Set typed.
Discuss