Six years ago, Migos dropped their first mixtape, Y.R.N.
To celebrate, Offset jumped on Instagram and claimed that all of you favorite rapper's cadences belong to him.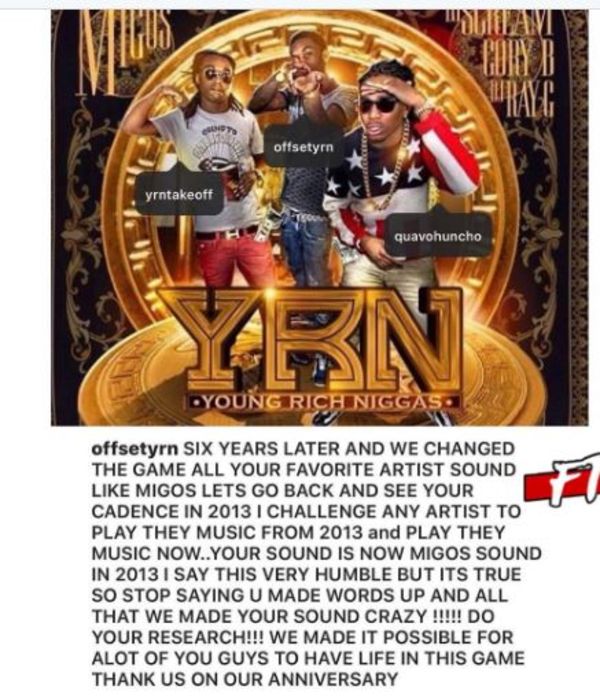 "SIX YEARS LATER AND WE CHANGED THE GAME ALL YOUR FAVORITE ARTIST SOUND LIKE MIGOS LETS GO BACK AND SEE YOUR CADENCE IN 2013 I CHALLENGE ANY ARTIST TO PLAY THEY MUSIC FROM 2013 and PLAY THEY MUSIC NOW..YOUR SOUND IS NOW MIGOS SOUND IN 2013 I SAY THIS VERY HUMBLE BUT ITS TRUE SO STOP SAYING U MADE WORDS UP AND ALL THAT WE MADE YOUR SOUND CRAZY !!!!! DO YOUR RESEARCH!!! WE MADE IT POSSIBLE FOR ALOT OF YOU GUYS TO HAVE LIFE IN THIS GAME THANK US ON OUR ANNIVERSARY," 'Set stunted.
Quavo agreed, typing "TENYA SET," in the comments.
Do you agree?
Discuss