Last night, Kanye West declared war on the Jewish people in a Tweet that got him locked out of Twitter.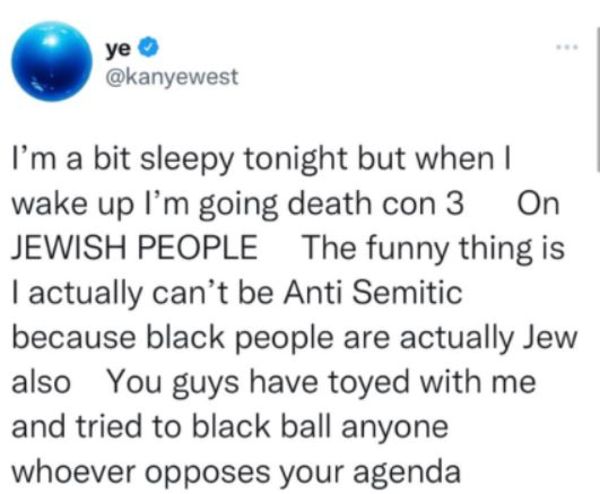 "I'm a bit sleepy tonight but when I wake up I'm going death con 3 ON JEWISH PEOPLE The funny thing is I actually can't by Anti Semitic because black people are actually jew also You guys have toyed with me and tried to black ball anyone whoever opposes your agenda," Ye typed.
Actor and social media figure Michael Rapaport, who is Jewish, responded to Ye's declaration of war.
I'm up going DEFCON 6 Million @kanyewest

S T A Y D I S R U P T I V E @iamrapaport all day everyday
Disruptive Behavior ✡️✡️✡️✡️✡️✡️ pic.twitter.com/KmZcegVKiB

— MichaelRapaport (@MichaelRapaport) October 9, 2022
"Kooky Kanye West. What are you talking about Defcon 1? Defcon 2. Jews know about Defcon 3. You are not doing Defcon anything. Defcon 5, six million. We know all about that. You working ont he design for the new Yeezy Jewish space laser? Your on to Marjorie Taylor Greene, Charlottesville the Jews will not replace us. I defended you you dusty prick. You look dusty. That's never going to be fashionable acceptable. Get the dust out of your beard. Take a shower. I don't care what your on. Take a shower. I defended you when Pistol Pete Davidson was sugar dicking your wife. This is unaccapabtle. You're not going to be president, you creep you," Rapaport said.
Discuss