Earlier today, we learned that someone had duped designer Philip Plein into forking over nearly a million dollars for Kanye West to perform at one of his fashion shows by forging Ye's name
Now we've learned that scammer is none-other-than Malk Yusaf, six-time Grammy winner and Kanye's close Chicago collaborator.
According to the contract, West was supposed to show up five hours ahead of time, walk the red carpet, attend the catwalk presentation, the cocktail party and the dinner. He was supposed to perform three songs with an orchestra and the deal called for Kanye to not wear any visible brands or logos other than Philip Plein — though he was allowed to wear Yeezys.

The contract stated that Plein would pay $500,000 to the Donda Social Program Foundation and that six children from the foundation would appear at the event (dressed in a Phillip Plein "total look"). They were also allowed a travel budget for Kanye, Yusef, an orchestra and the kids totaling $170,000.

According to our sources, three wires were sent on January 31 — one for $600,000 and another for $150,000 — to Donda S. House Inc. Another $150,000 was sent to Burundi Partlow Consulting, who we're told put Plein's reps in touch with Yusef months ago to make the deal in the first place.

We're told Kanye not only knew nothing about any of this, he received none of the money.
Here's the reported forgery of West's signature by Yusef.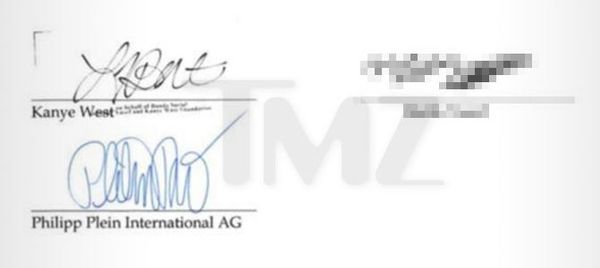 "We were beyond excited to work with [Kanye West] but unfortunately an individual pretended to be part of his management team and acted without Kanye's knowledge, capitalizing on a former friendship with him. Unfortunately, we too were affected by this misrepresentation," a Phillip Plein spokesman told The Blast.
When asked, Yusef claims he didn't know there were issues with the deal. But Kanye's camp denies he still has any connection to Donda S. House Inc. or any connection to the deal Yusef made.
What's going on here?
Discuss