The organizers of Jay-Z's Made In America Festival wouldn't let Kodak Black perform after he showed up late, which the Florida rapper vented about on Instagram Stories.
Yak was supposed to hit the Liberty Stage at 6:15 pm on Saturday, September 3 in Philadelphia and it's not clear why he was late. Either way, he didn't bite his tongue about not performing.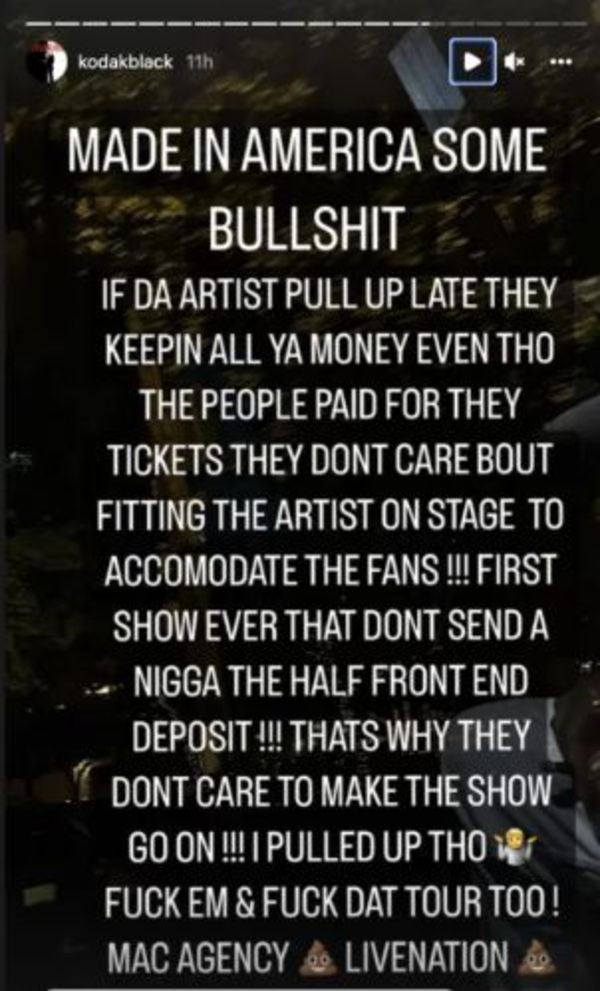 "BULLSH*T" Kodak began. "IF DA ARTIST PULL UP LATE THEY KEEPIN ALL YA MONEY EVEN THO THE PEOPLE PAID FOR THEY TICKETS THEY DONT CARE BOUT FITTING THE ARTIST ON STAGE TO ACCOMODATE THE FANS !!! FIRST SHOW EVER THAT DONT SEND A N*GGA THE HALF FRONT END DEPOSIT !!! THATS WHY THEY DONT CARE TO MAKE THE SHOW GO ON !!! I PULLED UP THO … F*CK EM & F*CK DAT TOUR TOO !"
Yak — who was recently banned from New York by rapper Sha Ek — also shared a video of himself mentioning Jay and the others who run the festival.
"Jay-Z, whoever running that sh*t, Roc Nation, Live Nation, y'all gotta do better," he stated.
Is Yak right about festival organizers screwing concertgoers out of their money?
Discuss