The 2017 Rolling Loud Festival in Miami, Florida could be the rap event of the year.
The lineup features Kendrick Lamar, Future, Lil Wayne, Travis Scott, A$AP Rocky, Young Thug, Migos, Post Malone, Kevin Gates, Lil Yatchty, Lil Uzi Vert, Action Bronson, Joey Bada$$, Kodak Black, 21 Savage and more.
It's scheduled for May 5-7 at Miami's Bayfront Park.
It now faces cancellation.
The Miami Hearld reports the show's organizers didn't get the full approval of the governmental organization that runs Bayfort Park. According to the Herald:
On Tuesday, the board that governs Bayfront Park, where Rolling Loud is set to go off May 5-7, may hold a meeting to vote on the potential rejection of the festival's use agreement for the park. The vote was requested by Frank Carollo, chairman of the Bayfront Park Management Trust, who questioned last week whether the show could be canceled after learning the festival had been approved without his knowledge or the board's consent.
It's fairly common for Bayfront Park to host events without the full approval of the board. But in this case Carollo believes the size of the event required more than just the OK of the park's executive director Timothy Schmand, who signed off on the event.

Because of his dispute with Carollo over Rolling Loud, Schmand just resigned his position. But Rolling Loud still thinks they have a deal.
"We have a deal. We have an agreement. We were told we were good to go and we're acting on that," said Rolling Loud spokesman Brian Andrews told the Herald. "We want to be good neighbors and we want to be part of the downtown Miami scene for years to come, not just a one-hit wonder."
Another source told the Herald that the event's organizers have already spent $8 million preparing for the festival.

Previous iterations of the festival had taken place at smaller venues.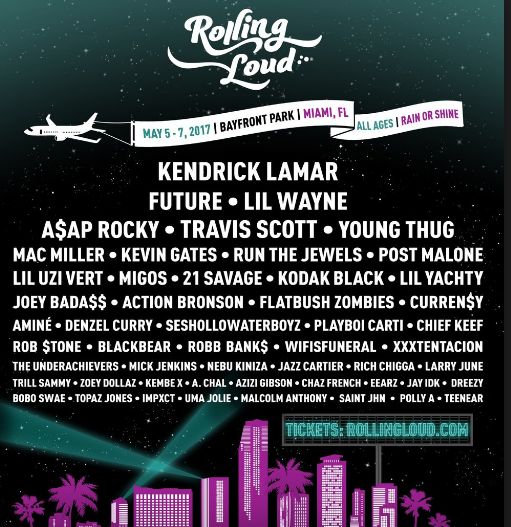 Discuss