Kendrick Lamar's much anticipated follow-up to Good Kid, M.A.A.D City will drop on March 23.
The TDE rapper just sent out a link to the album's iTune's pre-order page from his Twitter account.
http://t.co/4D2zhfsEkf — Kendrick Lamar (@kendricklamar) March 6, 2015
As you can see below, the album will have 16 tracks, but only track 13, 'The Blacker The Berry,' has been revealed. While some are reporting the name of the album is [Untitled], we're thinking he just hasn't revealed the title yet. But who knows?
Are you ready for some K.Dot?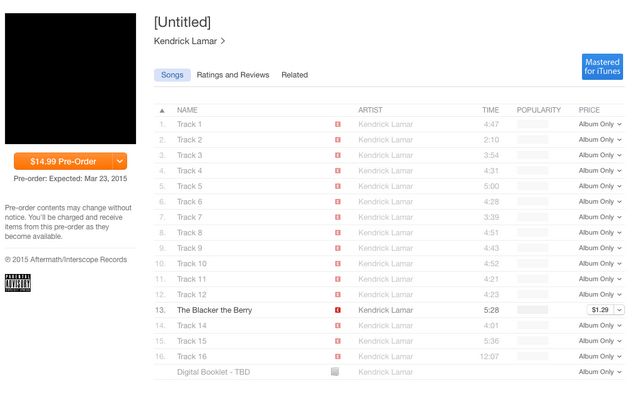 Update: Hip Hop jorno Elliott Wilson confirms what we suspected about the title:
There's an album title. There's an album cover. — Elliott Wilson (@ElliottWilson) March 7, 2015
For the latest Hip Hop tracks and news, follow us on Twitter.
Discuss