Doja Cat caused quite a stir last night by shaving off all of her hair on Instagram Live.
"I feel like I was never supposed to have hair anyway. I, like, don't like having hair," she explained. "I never liked having hair. I cannot tell you one time, since the beginning of my life, that I've ever been like, 'This is cool. I just do not like to have hair."
While there has been criticism of the move, Joyner Lucas is all for it.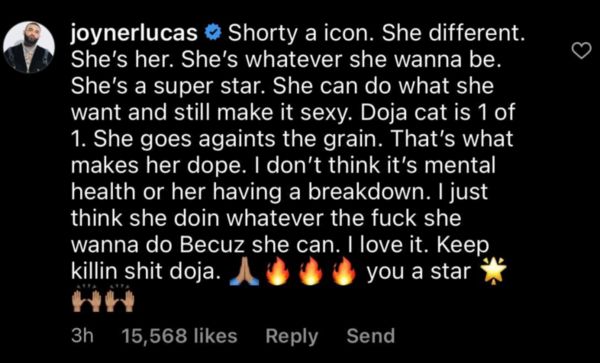 "Shorty a icon," he typed. "She different. She's her. She's whatever she wanna be. She's a super star. She can do what she want and still make it sexy. Doja Cat is 1 of 1. She goes against the grain. That's what makes her dope. I don't think it's mental health or her having a breakdown. I just think she doin whatever the f*ck she wanna do becuz she can. I love it. Keep killin sh*it Doja. You a star."
Agree? Or is she having a breakdown. She's hinted at breakdowns before.
Doja Cat shaved her eyebrows off on live 👀 pic.twitter.com/wBM1BtfUqC

— No Jumper (@nojumper) August 5, 2022
Discuss