On Tuesday night, two of the most exciting young big men in recent NBA history squared off.
Joel Embiid's Sixers defeated Karl Anthony-Towns's Timberwolves 118-112 in OT. While both the young stars stuffed the stat sheet, Embiid had the better game, ending with 28 points, 11 rebounds, and 8 assists.
After the game, Embiid had some fun with Towns on IG, posting a photo of him scoring as Towns looked confused and worried.
"Raising the cat" is an inside joke among Sixer players and fans, who take photos of themselves lifting felines after Philly wins.
The caption is also a shot at Towns, whose nickname is KAT.
Towns responded by saying "That caption was as trash as the picture quality."
Which was the perfect set up for Joel to go Mutombo on KAT: "Better quality than your defense," he wrote.
Towns has a reputation for being a bad defensive player. Although he did have four steals and three blocks in the Sixers game, he was a minus 10 when he was on the court whereas Embiid was a plus 19.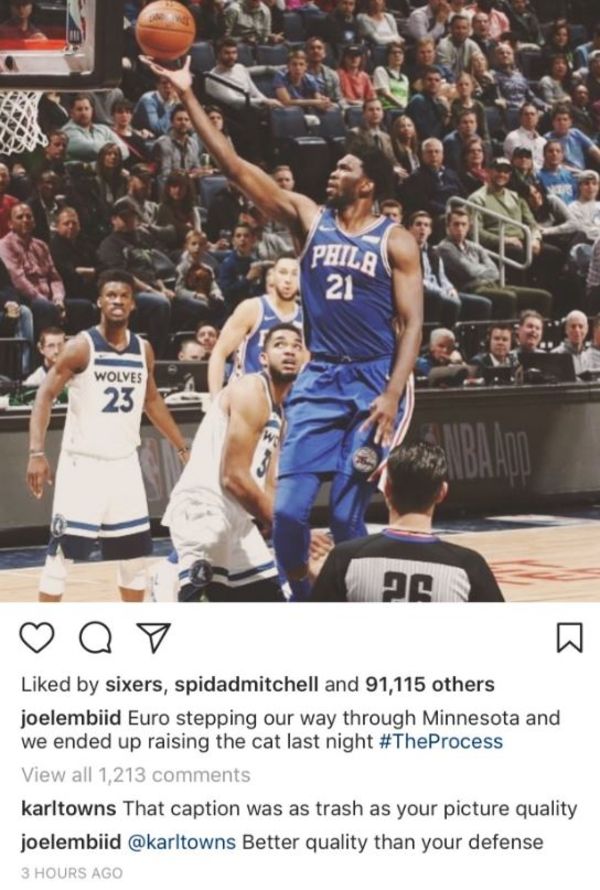 Discuss