50 Cent used today's news of Tekashi 6ix9ine's likely early release to take a shot at Jim Jones.
He reminded everyone that Capo was never charged in the Federal case against the Nine Treys even though he was a member of the Blood set and he was recorded by the Feds telling Mel Murda to have Shotti violate 6ix9ine.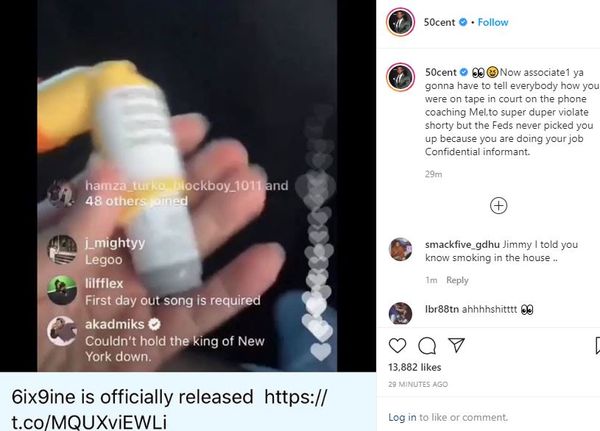 "Now individual 1 ya gonna have to tell everybody how you were on tape in court on the phone coaching Mel,to super duper violate shorty but the Feds never picked you up and the charges were Rico & conspiracy Confidential informant," Fif typed.
Jones responded with a photo of Murda, who used to be in Byrd Gang, and a caption that targetted 50 and 6ix9ine without saying their names.
"Melly said he doin super fine, Jones typed. You have to watch out for these so call real ones thts routing for rats to come home and And wanna see real nighas go to jail. Any nigha th needs to try n tarnish another mans name for personal gain has to b a hoe why else would he have my dick so far down his throat lol 😂 pause." Jones typed.
What do you think of all of that?
Discuss