Ja Rule is not good at the Internet.
This is the guy who jumped on Twitter and begged his fans to change his height on Wikipedia from 5'6 to 5'9, apparently unaware that he could have easily done it himself.
In his latest web blunder, the 40-year old unleashed a Tweet which claimed Michael Jordan gets a dollar for every time somebody uses the Crying Jordan meme.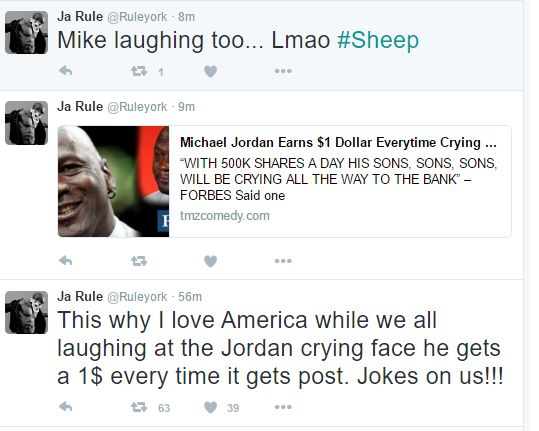 His information was based on a parody article from a website called Tmzcomedy. When Rule realized he had been duped, he took down the Tweet. But enough people saw it to give the gullible rapper quite a good and well-deserved social media dragging.
.@Ruleyork True story fam pic.twitter.com/KAUlGJlFqI

— Clyde Flexler (@SwooshMcDuck) May 9, 2016
Ja Rule tweeted that and Twitter entered his mentions like... pic.twitter.com/7csoU4vBYV — LizzLocker (@Lizzs_Lockeroom) May 9, 2016
When Chappelle said "I wonder what Ja Rule thinks about this" https://t.co/z6I7FET2if

— Dad (@RealBisi) May 9, 2016
I hope that Crying Jordan tweet doesn't hurt Ja Rule's gig as a Fox Business analyst... pic.twitter.com/Uj8lLtYupe — Jim Weber (@JimMWeber) May 9, 2016
Ja Rule wore a durag for 95% of his rap career but had zero waves to show for it.

— ℕUFF$AID (@nuffsaidNY) May 9, 2016
Ja Rule cited a link to a fake TMZ site with 'comedy' its own name, and called us 'sheep' X____________x — DarkSkintDostoyevsky (@daniecal) May 9, 2016
@NifMuhammad @ShaunKing "damn son where'd you find this?"

"my spam folder." — Ramona of the Oceans (@ramonaknives) May 9, 2016
In case you were wondering, JaRule gets his news from https://t.co/vS48yidBS7 pic.twitter.com/AY5yMGjh0l — Feitelberg (@FeitsBarstool) May 9, 2016
Y'all laughing but every time someone screen grabs that tweet I get 50cents!!!

— Ja Rule (@Ruleyork) May 9, 2016
Oh so this is how the Internet works... Say dumb shit get a bunch of new followers!!! this won't be easy for me y'all but I'll try... — Ja Rule (@Ruleyork) May 9, 2016
It was a graceful L til he deleted pic.twitter.com/yhu3l7OMcZ

— Quit Lion (@MelioraMed) May 9, 2016
Discuss