On NBA YoungBoy's Richest Opp's track "F*ck The Industry Pt. 2" he recalls a facetime J Prince set up with Drake during which they discussed Lil Durk.
"Talked to Drake 'cross FaceTime, he wasn't feeling me / Told me that he f*ck with Durk, damn, that sh*t getting to me / Told me that he like the sh*t I'm doing, but can't do sh*t with me / So when we cross our ways, f*ck what you say, bitch, you my enemy," raps YoungBoy.
It took him a couple of days, But J Prince has something to say about all of that.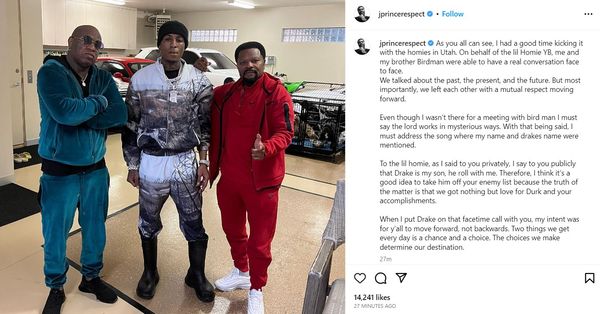 "To the lil homie, as I said to you privately, I say to you publicly that Drake is my son, he roll with me. Therefore, I think it's a good idea to take him off your enemy list because the truth of the matter is that we got nothing but love for Durk and your accomplishments.

When I put Drake on that facetime call with you, my intent was for y'all to move forward, not backwards. Two things we get every day is a chance and a choice. The choices we make determine our destination," Prince typed.
This isn't the first time Prince and YB have gotten into it.
Should YB be worried or is Prince all bark and no bite?
Discuss