Teka$hi 69 has a surprising backer in J. Cole.
In the past, Cole has decried the kind of antics that 69 revels in. However, Cole can't deny the grind.
Check out this pro-Teka$hi clip which 69's best buddy DJ Akademiks pulled from Cole's recent Angie Martinez interview.
"This 6ix9ine kid. He's willing to do whatever, say whatever because he wants it that bad, and in a way I kind of respect it because he knows what he's doing. I'm fascinated; can't look away," he told Angie Martinez.
Then he went on to justify 69's behavior.
"The amount of pain and trauma has to be so intense for you to take it to those levels to attain that—whether it's money, fame something. I got to have it. If I don't plug my hole with that—it's not even an option—I'ma do whatever to fill this shit. I can't feel like no fucking lame no more."
When 69 caught wind of Cole's cosign, his response was just as trolly as you would expect.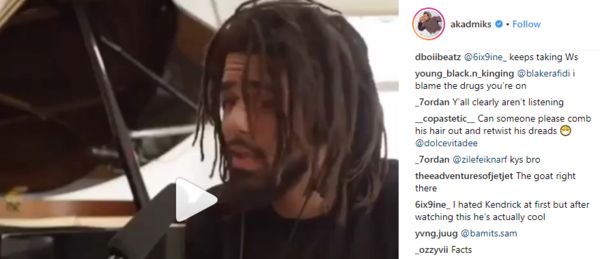 "I hated Kendrick at first but after watching this he's actually cool," 69 clowned in Ak's comments.
Discuss