.Last week, the jeweler TraxNYC called out Teka$hi 69 for not paying for a 25K bracelet.
Now Trax is saying the bracelet has been paid for ... by DJ Akademiks.
"THANK YOU AKADEMIKS FOR PAYING YOUR BOYS BILL AND MAKING HIM FT ME! NO L'S I GOT MY 25,000," he wrote. "TELL YOUR BOY 6IX9INE TO POST THE WHOLE VIDEO! PUT THE PART WHERE YOU CALLED ME ASKING ME WHY I HAD TO POST VIDEO UP YOU SHOULD HAVE JUST CALLED ME."
Akademiks seems to have a close relationship with 69, and has featured him prominently on his sites.
Here's what 69 said about all of this.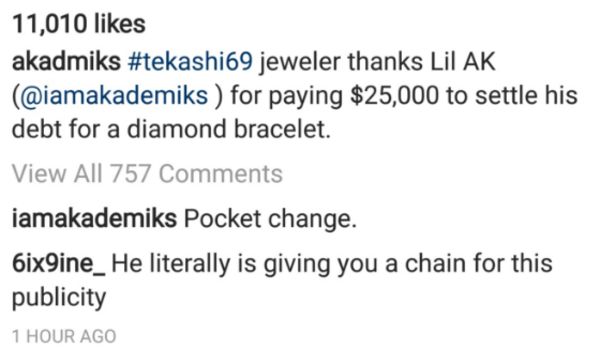 "He is literally giving you a chain for this publicity," 69 wrote on Ak's page.
Here's more on what went down between 69 and the jeweler.
It would seem the intersection between trolling, publicity and reality is getting busier and busier.
Discuss