Eminem and Machine Gun Kelly are proving that rap beef sells, which is something we already knew.
But now that it's been reiterated who will be the next two spitters to get in the lyrical ring?
How about two of Shady's favorite younger rappers: Joyner Lucas and Hopsin.
Hopsin started it with this Twitter reply last night.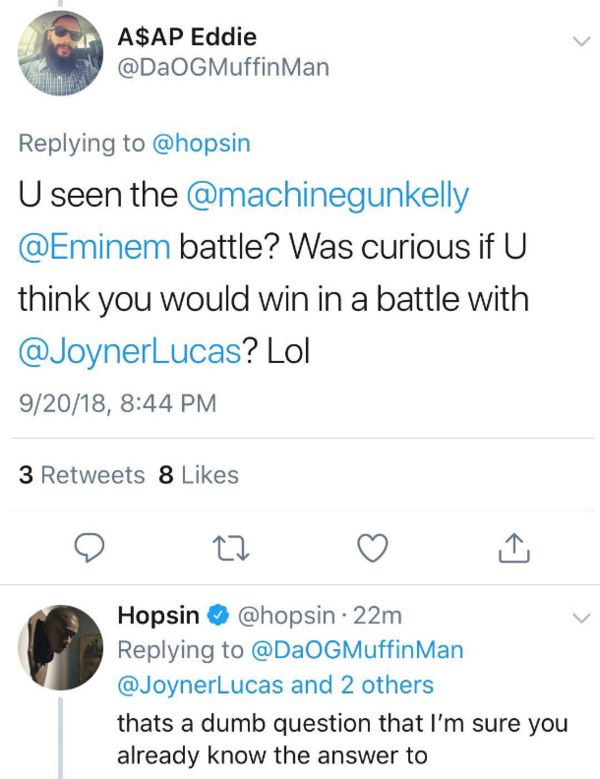 "Thats a dumb question that I'm sure you already know the answer to," Hopsin typed in response to an inquiry about what would happen if he and Lucas went at it.
Lucas demanded clarification.
Hold up. @hopsin wtf is that supposed to mean??? 🤔 pic.twitter.com/l2YFTQKdoI

— Joyner Lucas (@JoynerLucas) September 21, 2018
Then Hopsin doubled down, dragging (and @ing) Logic -- who Joyner's beefed with before --in the process.
Stay in your lane bro @joynerlucas . I'm not @Logic301 ....I will beak your soul..#AndIPutThatOnEverythang pic.twitter.com/zWOAt5QJTE

— Hopsin (@hopsin) September 21, 2018
Who wins between Joyner and Hopsin?
Update: Joyner's got comebacks:
Before you break my soul you must break some ground first my g. U still in the same place for the last 10 years now. I'm jus sayin 🤷🏽‍♂️ level up first before u come for me little man. #andiputthatonyourstagnantcareer https://t.co/14ITF0mFoJ

— Joyner Lucas (@JoynerLucas) September 21, 2018
Discuss