The Game has a well-deserved reputation for being the most name-droppingst rapper around.
Ben's Big Blog, which offers a statistical analysis of music, has counted up all of the name-drops on Game's eight studio albums and has come up with the impressive total of 1788.
That's 13.97 names per song, 223.5 per album and 5.54 percent of all the words he raps. For their accounting, a name-drop is an explicit mention of a name or the mention of an album that is synonymous with a name.
Game's most popular name to drop is Dr. Dre's.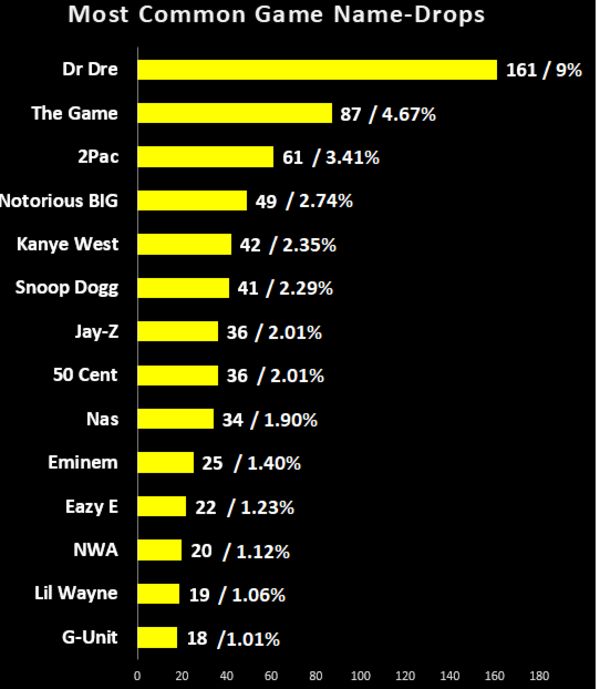 While he dropped many more names on his first album The Documentary (381) than he did on any of those that follow, he's been fairly consistent with his number of name drops since his debut. In order of his albums, it's Doctor's Advocate (239 name drops), LAX (244), The R.E.D. Album (192), Jesus Piece (165), The Documentary 2 (221), The Documentary 2.5 (154) and 1992 (192).
Finally, if you want evidence that Game's extreme name-dropping habit is extreme, here is Game's rate of name-dropping vs. that of his guest features.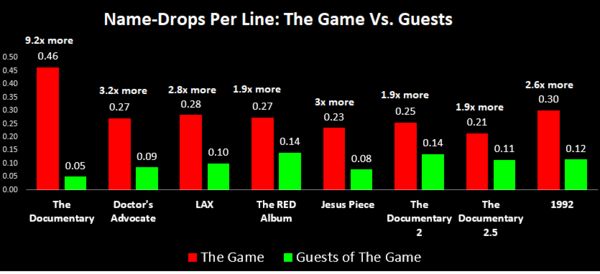 Discuss