Eminem's album Kamikaze has been a huge commercial success, knocking the bad taste of Revival out of everyone's mouth.
While the surprise drop had all the Stans rushing to their streaming service of choice last month, it didn't exactly thrill the critics.
"The work of an aging artist trying, and failing, to remain relevant," said The Hollywood Reporter.

"Yet another empty, intermittently tone-deaf onslaught" was Pitchfork's take.

"The good news is this the best Eminem album in more than a decade. The bad news is it still sucks," snarked Stereogum.

"A boot camp of knotty, joyless, lumbering ragers," Rolling Stone complained.

"What happens if Kamikaze doesn't outsell Revival? Who'll be to blame then," Vulture wondered.
Shady decided to throw that back all in their faces with this full page, which ran in the Hollywood Reporter this week.
Respect to @Eminem and his label for running this very funny ad in @THR magazine. Is this the print equivalent of a diss track? pic.twitter.com/xPVXzWxZi5

— Matthew Belloni (@THRMattBelloni) September 20, 2018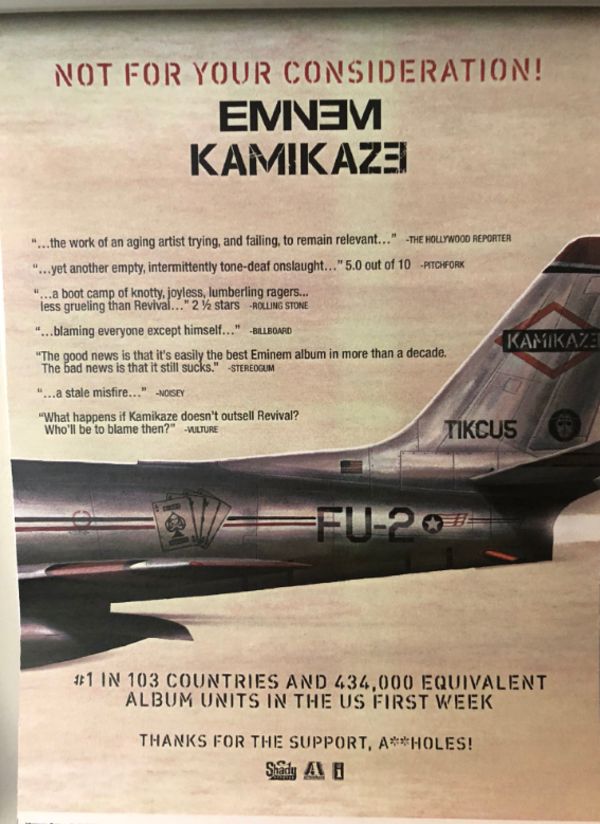 Discuss