There are unconfirmed reports coming out of the UK and Ireland that Conor McGregor's life is at risk after a brawl involving associates of the Irish mafia.
McGregor is alleged to have thrown punches at several men Sunday during a fight at the Black Forge Inn in Crumlin, the Dublin suburb that Conor grew up in.
One of the men he hit, an older fellow, is said to be linked to Irish mobster and drug dealer Graham 'The Wig' Whelan, and could even be his father.
Whelan was part of long-running drug feud that claimed 16 lives in the early 2000s.
Earlier this week, The Irish Sun broke a story about a "celeb" punching a mobster's dad without using McGregor or Whelan's names.
"The man's son is an extremely dangerous individual who's very well connected and respected by the top level of the Kinahan [Irish drug cartel] group," reports The Irish Sun. "He's not known to ever let someone away with stepping out of line, so punching his dad will be treated very seriously, whoever you are. The man responsible is right to lay low. There's already talk that they want €900,000 (a million dollars) from him as ­compensation. They know he has the money at hand."
McGregor has yet to officially comment on the report. But he put up an Instagram post captioned "The celebrity" which seems to confirm that he is the famous person the Sun is referring to and that he isn't laying low at all.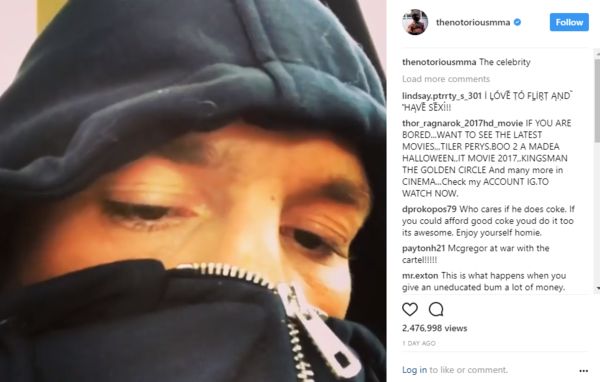 UFC boss Dana White did comment on the report:
"Can't be a good thing for Conor," White said during a media luncheon Tuesday at UFC headquarters. "But I'm sure it can be worked out, too. Jake LaMotta's brother beat the shit out of a wise guy, too, and they figured it out."
Do you think Conor will figure this one out?
Discuss