50 Cent had some Easter smoke for JAY-Z yesterday.
Fif was miffed to learn that his buddy Eminem had to force Hov to allow 50 to perform the Super Bowl halftime show by saying he'd only play if 50 could too.
So 50 jumped on IG and mocked Hov for trying to look like the late painter Jean Michel Basquiat. He also told Hov to put some respect on Em's name when he speaks about him.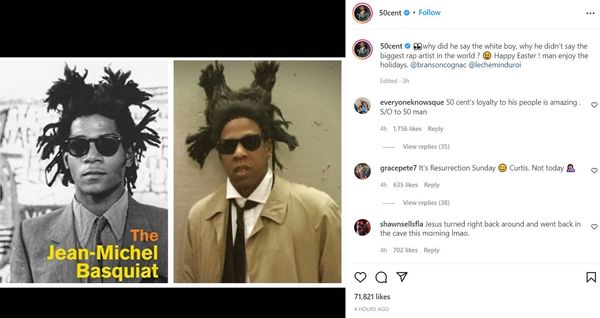 "Why would he have to say that should be the question?NORE Your big homie is running around trying to look like a gay painter," Fif said of JAY-Z. "Why did he say the white boy, why he didn't say the biggest rap artist in the world?"
In light of that, a clip from 2014 in which 50 Cent explains why Em is a much bigger rapper than JAY-Z has emerged.
50 Cent: "Eminem has Sold 60 MILLION More Records than Jay Z, how you put them like they're equal ?" ✊🏾 pic.twitter.com/FvlZMpgtsc

— Mike (@geniusEMINEM) April 17, 2022
"That's Live Nation 'cause [Jay Z] sold his touring career to Live Nation," 50 Cent speaking on the deal Hov made with Live Nation in 2008. "They've got to keep him hot enough to go get their money back. So they match 'em up with Em, put them together 'cause he got more momentum connected to his relationship with Beyonce and his record with Alicia. It makes sense. It makes sense, the Detroit New York show. But it only makes sense to me because of business. Iit makes sense, because Em sold like 60 million records more than him. How you put 'em there like they're equals? It's tough for me to say some of this and not sound like a hater. But I don't care."
Do you agree with that assessment?
Discuss