Ebola is scary stuff. Especially since the deadly virus has now been contracted by somebody inside the United States.
So you are probably wondering what Chris Brown thinks about the health crisis, right?
Well, don't worry?  Thanks to Twitter we all know: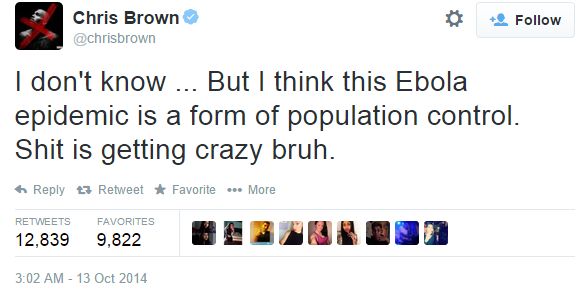 Brown's Tweet  proved very popular, as you can see from how many of his followers forwarded and favorited Breezy's theory on the horrible disease.
However, they weren't necessarily agreeing with him. Comedian Warren Holstein summed up a good chunk of the responses to Brown's theory when he Tweeted: "Chris Brown tweeted that Ebola is 'a form of population control.' He should try it."
So an hour after giving his two cents, Brown decided it would have been best that he didn't.

Thus ending Brown's career as an epidemiologist. (That's a scientist who studies how diseases are spread.) Now he'll just have to stick to the singing, dancing and acting.
Are you starting to get freaked out by Ebola, or are you already freaked out?
Discuss