Vivica A. Fox dishes on her sex life with 50 Cent in her upcoming self-help book "Every Day, I'm Hustling."
The New York Daily News, who have a copy of the book, report that 50 didn't have world's strongest libido.
The 53-year-old "Empire" star says Fitty wooed her and they had amazing chemistry although he was more focused on his career than on sex.

"Most of the time, I would be the one initiating sex, because I really enjoyed making love with him," writes Fox, who also describes their sessions as PG-13 but "cherished and special."

Fox later found out that the rapper had been ready to propose to her during a trip to Monaco, where the pair was taking part in the World Music Awards in 2003. Fitty had planned to rent out a theater in Monte Carlo, show a print of "Kill Bill, Vol. 1" — in which she starred — and then propose at the end with a 14-carat diamond ring. He nixed it when he felt Fox had hogged the spotlight by signing as the show's host.
In the past, Fox has suggested 50 was gay. He claims she thinks that because he let her eat his ass. (Which wouldn't really be PG-13.)
Here's how 50 responded to his ex's latest, less explosive allegations.
"t👀I'm waking up to this shit, that was14 years ago. 🤦‍♂️smh who does this? What the fuck!🤨," he wrote under a photo of the article.
Something tells us there will be more from Fif on this one when he's feeling a little more awake.
Update: Here are some more comments: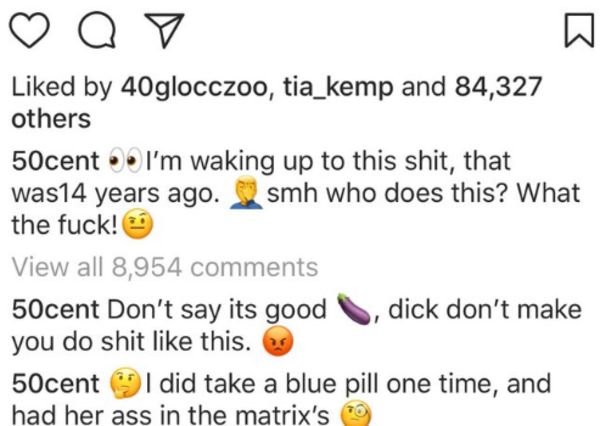 Discuss