French Montana got caught faking streams at the worst time possible.
Twitter user Karlamagne just put together a very compelling argument that somebody in French's camp was using a bot to take over Spotify accounts and make them spin the French featuring Post Malone and Cardi B track "Writing On The Wall ."
The ruse was revealed right in the middle of French's Instagram fight with 50 Cent over Montana representing a used 2008 Bugatti Veyron as a new Bugatti Chiron, like Fif has.
Instagram bully 50 Cent responded to French's fake streams on his social media platform of choice.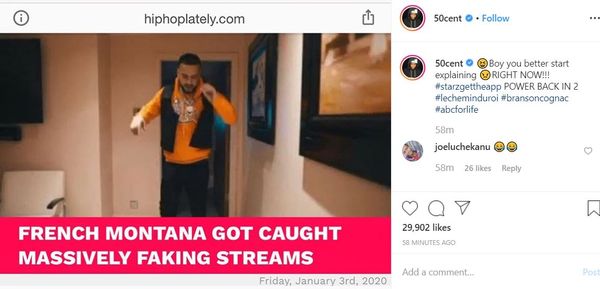 "Boy you better start explaining 😠RIGHT NOW!!! #starzgettheapp POWER BACK IN 2," Fif typed.
Fif also got on French for defending R. Kelly.
Discuss