French Montana dropped the Post Malone and Cardi B featured track "Writing On The Wall" in September.
It flopped, despite its red-hot features.
Two weeks ago, the track started to rise precipitously on Spotify, but did nothing on Apple Music.
Twitter user Karlamagne thinks he caught French and company faking streams. His Tweets are protected, but here's what he found via Reddit:
"French Montana's out here buying streams in a desperate attempt to turn his 3 months old flop song into a hit. The song was released on sept 27, 2019 and it wasn't very successful despite having two popular rappers featured on it. it charted for 5 weeks & left the top 200 on spotify, then re-entered 3 weeks later & even reached a new peak on spotify US today & this is where it gets weird.

Apparently the reason why it's charting again is because it's currently popular on tiktok...then why is it only rising on spotify? i mean when you look at the pics the difference between spotify and apple music is astounding. #21 (+27) on spotify #1192 (-105) on apple music???

So i decided to search on twitter to see if anyone was actually listening to the song since its popular on tiktok and i found some very interesting tweets of people saying their spotify was hacked and it was playing...french montana. Look carefully at the dates most of those tweets were sent, between 18-25 december 2019. now look at the date "writing on the wall" re-entered spotify US. december 22. y'all see where i'm going with this?

In conclusion its really easy to get a hit song nowadays, all you need is a fraudulent label who's willing to spend money on you. So if you see writing on the wall by french montana in the top 10 on billboard next month don't forget to come back to this thread. That's all for now."
Here are a bunch of Tweets from Spotify users claiming they've been hacked and forced to spin French Montana. (There are more.)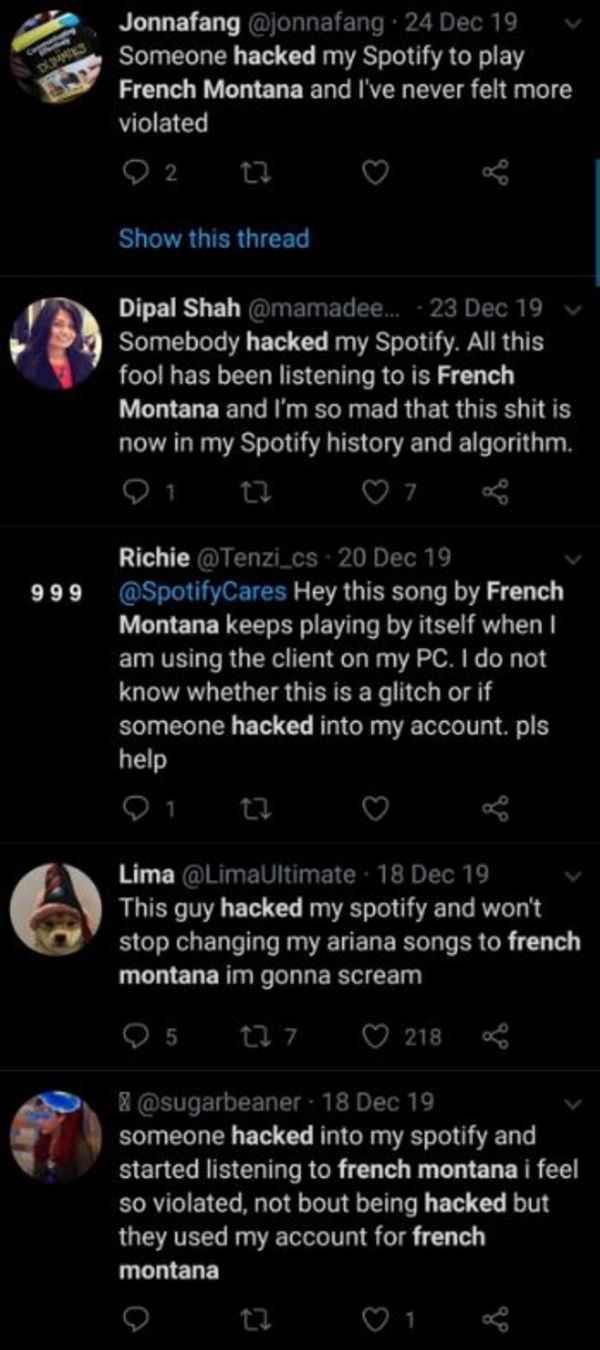 50 Cent should have a field day with this.
Discuss