The handwritten lost liner notes for 2Pac's album The Don Killuminati: The Seven Day Theory are being auctioned off.
Bidding starts at 30G, but you can see them here for free.
In the notes, Pac rips just about all of his contemporaries, both east and west coast.
"I dedicate this 2 Jack "the snitch" Agnant for ordering the hit, 2 Tut for shootin me 2 Puffy, Big, Stretch, Lil Shawn, Jimmy Henchman and whoever else remained silent while quietly conspiring my downfall. I thank u. I thank Faith for the greatest weapon ever her low self-esteem & beat up pussy. Thanks 2 Wendy Williams for being a fat bitch. Thanks 2 Mobb Depp 4 opening your mouth & letting me squash ya no record selling asses. 2 dust 2 Dr. Dre 4 being a closest [closet] homo. 2 Nas 4 not taking my advice and minding his business. 2 De La Soul 4 being mad at me for living well while they live like washed up bums. 2 Donnie Simpsons and all the comedians who laughed when I bled. 2 Jay Zee, King Sun Kicky Lock whatever, Lil Kim or fat ass weave wearing Biggie short stubby dick sucking Kim for being nobodiez," Pac writes.
The notes come from a close friend of Pac and have been authenticated.
What do you think of all of the venom from Pac, who was killed two months before Don Killuminati was released.?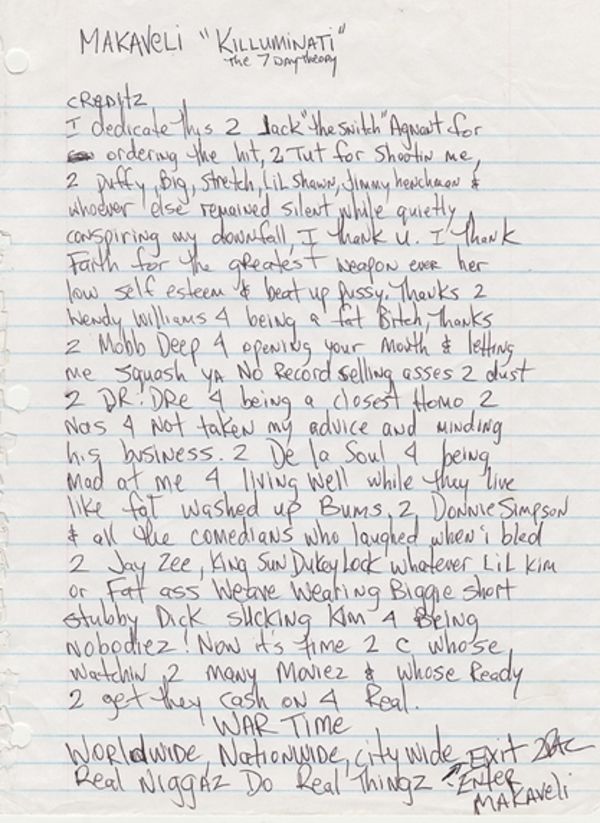 Discuss