Sometimes you just have to man up and say 'I'm sorry.'
That's what Young Thug realized, after his mother told him to go back the airport and apologize to those two ladies he insulted at Alaska Airlines.
"When your mama make you go to the airport and apologize," he wrote on Instagram, next to a photo of himself at the actual terminal.
Last week, we shared a video of the 'Halftime' rapper insulting the two women by calling them peasants, offering them 15,000 to quit their jobs and calling their hair nappy.
But according to Thug, all of this was because the workers were trying to make him miss his flight, and ultimately he couldn't attend a show in Seattle and missed out on $150,000.
Despite the rapper's claims, however, many believed he was still out of line, and they blasted him on social media with angry comments. Now he's being praised for apologizing.
"G move," someone wrote on Thug's IG page. "You did the right thing." "I would have made him do it too if he was my child," another person wrote. "Don't ever forget where you come from."
Others, however, thought the Atlanta spitter didn't owe an apology to anyone.  But there didn't seem to be a lot of people who shared that opinion.
"Magic and propaganda," one person commented. "Censorship at its finest. Who cares. I guess black men are not valuable until we get gunned down by law enforcement."
Maybe at some point, Thug will post a video of himself approaching the airport workers and apologizing.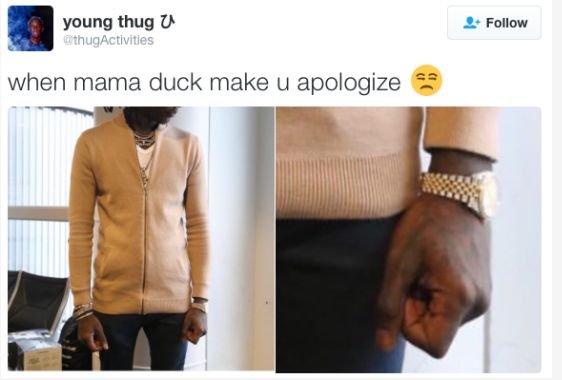 Discuss