Young Thug was arrested Monday evening for conspiracy to violate the RICO act and participation in criminal street gang activity.
Police raided his Buckhead, Georiga home after they took him in. What they found has led to seven additional felony charges.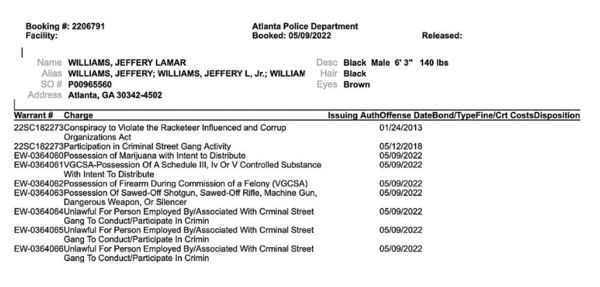 On May 9th, Thug was hit with Possession of Marijuana with Intent to Distribute; VGCSA-Possession Of A Schedule III, Iv Or V Controlled Substance With Intent To Distribute; Possession of Firearm During Commission of a Felony, Possession Of Sawed-Off Shotgun; Sawed-Off Rifle, Machine Gun, dangerous Weapon, Or Silencer; and three different charges of Unlawful For Person Employed By/Associated With Criminal Street Gang To Conduct/Participate In Criminal Activity.
Thug, who stands an impressively skinny 6'3 140 pounds, has been denied bond and may face life in prison.
Discuss