The death of Michael Brown has been big news since the unarmed teen was shot to death by police in Ferguson, Missouri on August 9.
Members of the Hip Hop community, from Snoop Dogg to TI to St. Louis's favorite son Nelly, have offered support to protesters demanding justice for Brown.
Young Thug, however, punted on the issue when asked about it on the BET Hip Hop Awards nomination show red carpet.
"Leave that up with the critics and the laws and all that other shit. We having fun. We iced out. We having money. That's how we doing it," the Stoner rapper said. He then added that he didn't think artists have any obligation to speak on social issues.
This has enraged many in the St. Louis community, and Young Thug was attacked on social media for his apathy. There is now a movement to have Young Thug banned from the Missouri city, which he is scheduled to play on November 16.
The anti-Young Thug post that is getting the most play includes this vaguely threatening message:
"Since you don't give a fuck about us and our situation… Keep yo bitch ass out the Lou! That money done went to yo head lil bitch… This yo only 'Warning' fuck boy…We still Show-Me State…Don't make us show you…"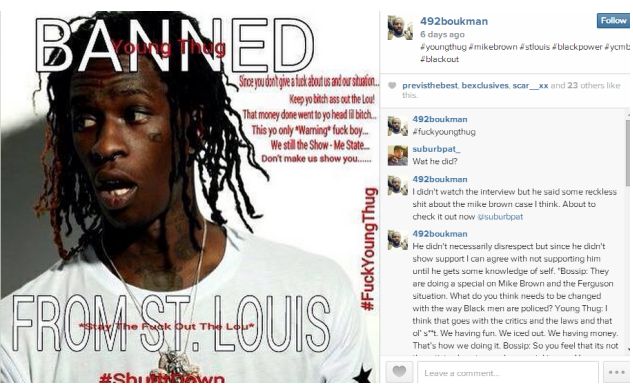 What do you think? Should artists have an obligation to speak on social issues, and face consequences when they don't? And do you really want to hear what somebody who named himself "Young Thug" has to think about the issues of the day?
Discuss