Young Dolph is listed in critical but stable condition after getting shot in the arms and buttocks during a Hollywood scuffle earlier this week.
Last night, he was feeling well enough to make his first comments since the shooting.
Its DOLPH!

— its DOLPHHHHHH! (@YoungDolph) October 1, 2017
"Its DOLPH!, he tweeted, with his typical dolphin flair.
He was also busy on Instagram, deleting his entire page.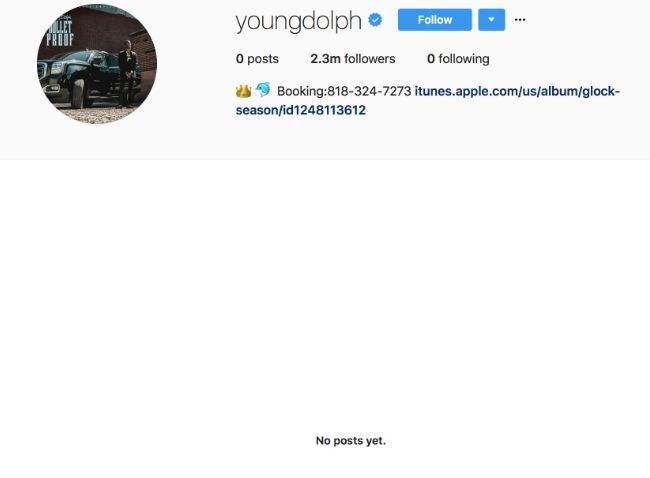 Yo Gotti associate Corey McClendon was arrested for attempted murder for the shooting. But he was subsequently released without charges because of a lack of evidence. Gotti and Dolph allegedly were both staying at the Loews Hollywood Hotel on the day of the shooting, which police say took place right outside of the hotel during a fight between Dolph and three men.
[Related: Young Dolph new recovering; Yo Gotti associate arrested.]
In February of this year, Dolph's SUV was shot at 100 times during CIAA Weekend in Charlotte, NC. He was uninjured. Gotti affiliate Blac Youngsta was arrested for that shooting, and is currently on bail and awaiting trial.
After all of the NC gunfire, Dolph dropped a mixtape titled Bullet Proof on which he bragged of surviving the attack and taunted his attackers.
Will he also use this latest attack as musical material?
Or is Dolph signaling a new direction with his life by deleting his IG page?
Discuss