Blac Youngsta was arrested earlier this month on three felony charges relating to the shooting up of Young Dolph's bullet proofed SUV during Charlotte's CIAA Weekend.
Youngsta has tried to push the narrative that Dolph snitched on him.
But that's a tough sell when the biggest piece of evidence against him is that the vehicle used in the shooting was rented out in Youngsta's name.
Dolph clowned on Blac's sloppy paper trail in a new series of web videos:
"I just rented a motherfucking van in my name, right. We going to go dump on a nigga. We gonna jump out six deep. 100 shots fuck nigga. Dumb ass nigga," Dolph said, laughing hysterically." If we get caught, I know one of ya'll niggas snitched," he continued. "Even though my name look dumb as a motherfucker."
In the videos, Dolph keeps on this theme, mocking how dumb (and what a bad shot) Blac is. Check them out.

Between everything Dolph and Youngsta are saying and doing, the cops aren't going to have to work very hard to investigate this case.

Update: Youngsta has responded to the videos: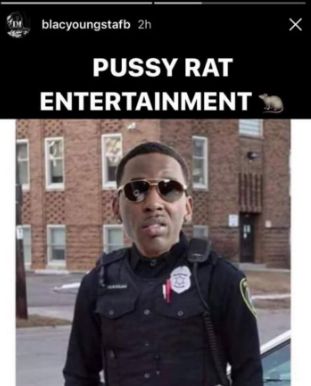 Discuss