XXXTentacion didn't like something he saw on the Instagram meme page SavageRealm.
It was a photo of two people, one of whom he thought to be the late Lil Peep, with the caption "these really be the dudes your bitches pop pussy for."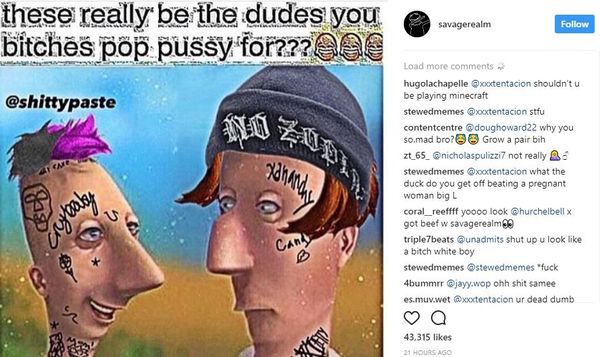 "Where the fuck do you get off dissing a dead person, XXX wrote on the page.
XXX's words resulted in a good chunk of the SavageRealm commentators ripping both him and Peep. XXX responded to that onslaught with an IG Stories message. (Flip through to see his thoughts on Peep.)
"Bruh why the fuck do people feel like its okay to diss Lil Peep," he asked. "This man passed away and you tryna get clout off dissing a dead person, some people are fucking weak bro."
As you can see, XXX also weighed in on Lil Uzi Vert's recent comments that you are better off not signing with another artist or DJ. (Vert is signed to DJ Drama's Generation Now imprint.)
What do you think about X's words on Peep and Vert?
Discuss