XXXTentacion addressed a rumor that he was arrested over the weekend for punching a middle-aged woman, and in the process called Ugly God jealous. At least that's what Ugly believed.
Afterward, The Booty Tape rapper said that XXX was mad at him for spreading the arrest rumor and called him emotional.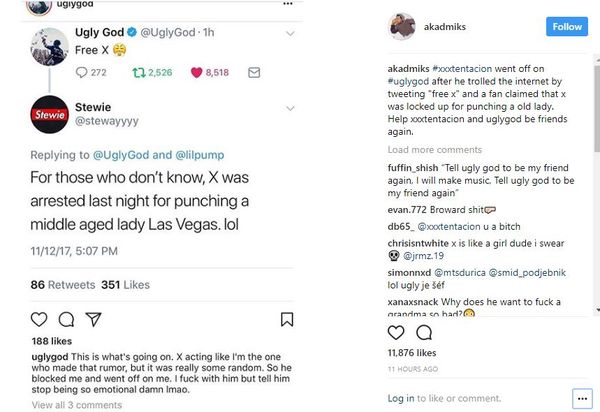 Then Ugly got on Instagram Live and spoke about XXX a little more.
"Don't summon no demon on me, bruh," he said. "Everybody telling me you about to summon a demon on me."
Ugly also said that he doesn't have any issues with XXX, but at the same time he's not scared of him.
"And no, I don't have any problems with that nigga at all," he stated. "And know I'm not saying that shit because I'm spooked."
Ugly then posted another video to address the situation. He also told XXX that he should've called him to resolve things instead of blocking him.
"It is bothering me, because it's being put on the internet like we're beefing or bickering back and forth. It's really not the case" he said. "Listen, this is not no beef shit. This is not being scary. This is being mature, because I'm not scared of any nigga … I seen your little remarks about rap niggas being jealous of you .. We do the same shit in life. We capitalize off the same shit. I don't envy your lifestyle."
XXX posted another video, which could be considered a response to all this, which you can see below.
What do you think about this back-and-forth between these two rappers?
Discuss