Wiz Khalifa did The Breakfast Club earlier this week to promote his new album Rolling Papers 2. During the interview, he had an interesting conversation with Charlamange about bananas and if straight men should eat them.
"You gotta break it in half, because if you bite a banana you sus," Wiz said.

"Why? It's just a fruit," CTG countered.

"You gotta break it in pieces bro," Wiz shot back. "If you a nigga, niggas gotta break the banana in half. I'm just trying to help you out, bro. If you're in public, just break it into pieces."
What do you think about Wiz's opinion on the curved, elongated fruit in relation to a straight man's mouth?
Here's what Twitter is saying:
fellas is it gay to eat? you telling me i'm supposed to use my fingers (hand penises) to put food into my mouth (face bootyhole)? 😩💀 idk bro sound a lil scrumptious to me 😭😭

— jaboukie young-white (@jaboukie) July 19, 2018
Now I know why @wizkhalifa looks like he needs potassium. If you are too homophobic to eat bananas, at least take a supplement.

— Jennifer Slopez (@JennSlowpez) July 20, 2018
Hey @wizkhalifa if you think eating a banana will make you wanna blow a guy you probably already wanna blow a guy. Also your logic is incredibly stupid, juvenile and homophobic. You should try to be a smarter person. https://t.co/H2dIsBAKlA

— Travon Free (@Travon) July 19, 2018
Day 1: Wiz Khalifa says that eating bananas makes you gay.

Day 2: Wiz Khalifa releases the portable Wiz-Matic Pocket Blender for making impromptu, heterosexual banana smoothies wherever you go.

Day 3: With the profits, Wiz buys a solid gold vault for his fragile masculinity. https://t.co/BzhTbbkokD

— Cezary Jan Strusiewicz (@ostrichson) July 20, 2018
If you took what Wiz said about bananas seriously... I can't take you seriously. I'd be surprised if Wiz takes Wiz seriously

— Saman Kunan (@DepruhboySnoopy) July 20, 2018
Wiz being smeared with a very misleading headline. He said you can eat bananas but you have to break them in half first, which is a reasonable centrist position on banana eating. People are taking him out of context to make him sound stupid. pic.twitter.com/4PVty0j2vH

— PeterNorway (@classiclib3ral) July 19, 2018
Oddly, Wiz doesn't seem to feel the same way about other elongated things one puts in the mouth.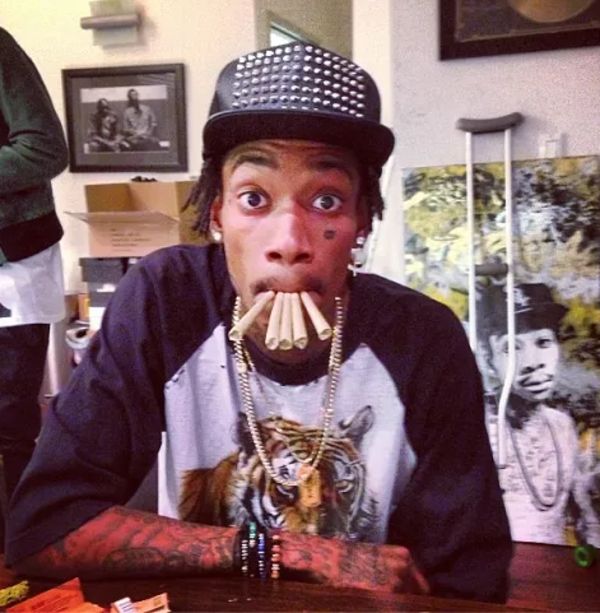 Discuss