In a since-deleted Instagram post, 50 Cent mocked Terry Crews for not fighting back when Hollywood agent Adam Venit grabbed and squeezed his balls at an industry party right in front of Crews' wife.
Instead of getting physical, Crews is suing Venit and has become an advocate for sexual assault victims.
In reaction to 50's clowning of Crews, there is now a petition asking Starz to cut ties with Fif, who is the producer and co-star of the premium channel's most-watched series, Power.
While most people hailed Terry Crews as brave for speaking up, rap mogul 50 Cent decided to mock him. In a now-deleted Instagram post, the rapper and producer uploaded a picture of Crews topless with the words "I got raped, my wife just watched." He even captioned the photo with a crude insult to Crews: "LOL, What the f*** is going on out here man?"

50 Cent's posts insinuated that Crews was somehow less of a man for being a victim of sexual harassment. His words were not only disappointing but also indicative of what the #MeToo movement is fighting against," reads the Care2 petition.
The petition looks like it will reach its goal of 10,000 digital signatures. (Although we seriously doubt Starz will drop 50.)
Here's what Fif would like to say to all of those who signed: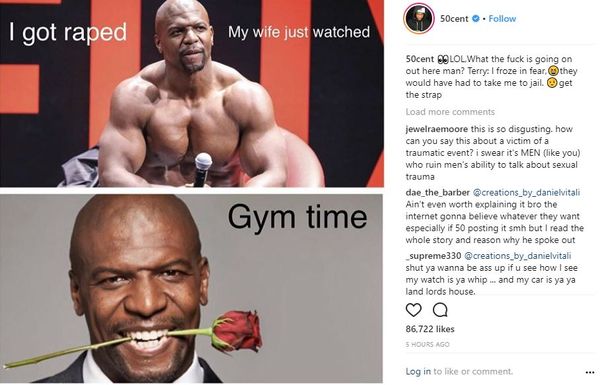 Discuss