During the MTV VMAs last night, Kanye West declared that he was running for President in 2020.
We doubt he was being that serious. He had already conceded that he was high, and had already spoken for ten minutes like a man who wasn't completely in charge of all of his facilities.
However, during a time in which Donald Trump is leading all Republican candidates in the race for 2016, we can't really dismiss the possibility that 'Ye may in fact run for the highest office in the land.
Even the White House was forced to comment on West's candidacy.
"[We] look forward to seeing what slogan (West) chooses to embroider on his campaign hat," said White House Press Secretary Josh Earnest while traveling aboard Air Force One with President Obama.
The poll below is fake, but it raises an interesting question. Who would you support for President, Kanye West, Donald Trump or Deez Nuts?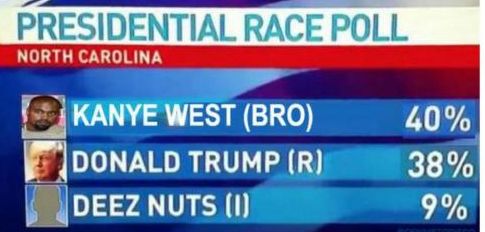 Discuss