Producer JW Lucas was behind the boards for "What's Poppin'," the Jack Harlow hit that's tearing up the charts. He's also made beats for Pop Smoke, Lil Uzi Vert, and DaBaby.
His star is on the rise. But he just tempted cancellation with his comments on Breonna Taylor, the Louisville woman who was killed by police during a no-knock warrant.
Here are more of his comments:
It is terrible Breonna lost her life, and as I said earlier I believe the cops may have mishandled the raid and been to aggressive after being fired on. With that being said what is the punishment the world Is calling for. Those men were on the job and have families as well

If I angered anyone with my tweets regarding the Breonna taylor case I do apologize. My intent is to point out the miss information regarding the case and to bring awareness that this case is being sensationalized for politcal purposes and to cause confusion near an election

Clearly this isn't a game to me I'm not out here campaigning for trump or trying to be a sensationalist myself. My entire message is that we have to unify out of love and cooperation If you havnt heard me speak daily or the overall tone of my ideology stop with the bullshit #love

My intent is always out of love and real progression. Life isn't a fairy tail and it's tough conversations that lead to change.The wolrd needs to unify out of love and stop being confused by political propaganda . Anything other than cooperation is unacceptable in these times

I'm a real activist you pussy ass sheep out here trying to fit in.... not doing shit but trying to get likes..... every day of my life I engage people and push for real change to those oppressed and impacted by poverty

Do not spin my words... I clearly said she did not deserve to die. That is not a consequence anyone should have to deal with under any circumstances. I do feel for her and her family. I don't want people to distracted by politics.... we have to unify

There has to be consequences for people selling crack or any hard drugs to our communities. I clearly stated that her dying was not acceptable. Having your house raided is part of those choices. I hope people can understand the intent behind my tweet
Should people Tweet what they feel, or should JW have kept that to himself?
Here is some of the reaction: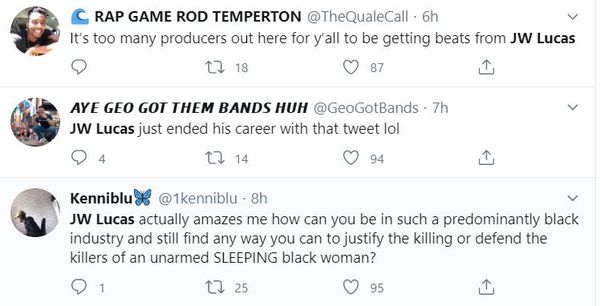 Jack Harlow is distancing himself from JW Lucas: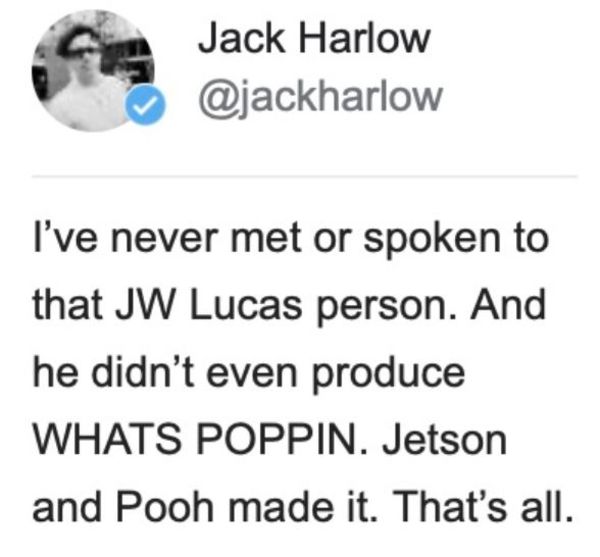 Discuss