When University of Georgia student Kyle Weber went to a Waka Flocka concert last night wearing a Donald Trump basketball jersey he knew he was looking for trouble.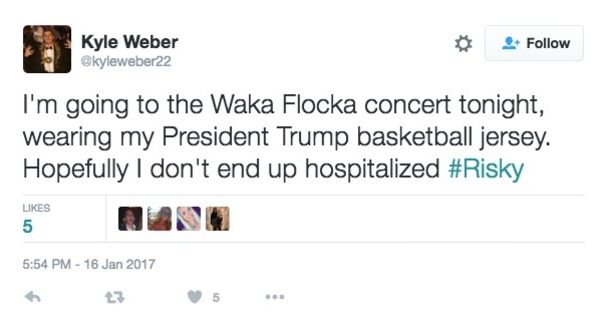 While he didn't get hospitalized, he's probably never going to wear the jersey again because Waka took it from him and used it to wipe his ass.
A fan showed @WakaFlocka a trump jersey while he was performing. Here's what Flocka thought about it.. #georgiatheatre pic.twitter.com/4Fzg7sqgC9

— Dro (@LifeofDro) January 17, 2017
Weber wasn't pissed though.

Waka toyed with running for President in 2016, but was stymied by the whole being-35-requirement (among other things.)
But it looks like he's found another smellier way to make political statements.
Discuss